mixed beetroot focaccia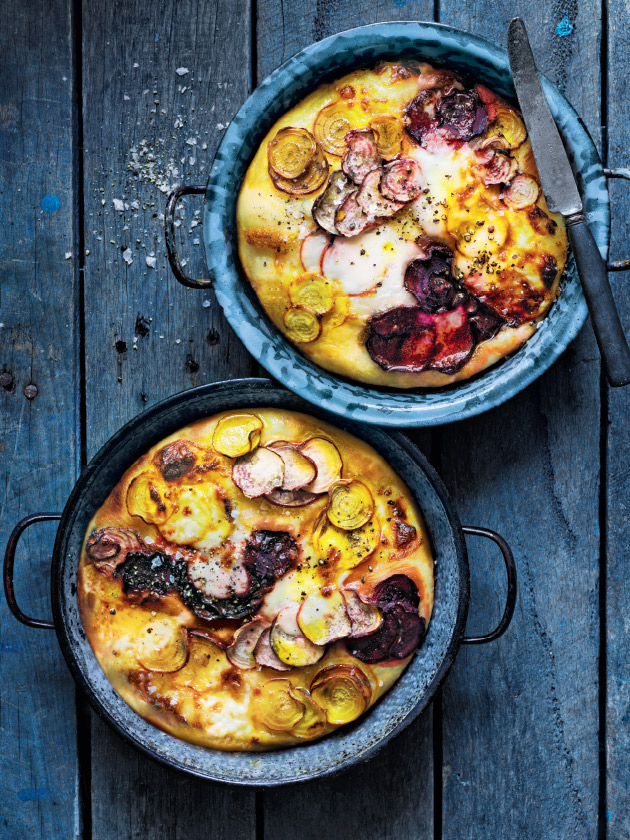 ¾ cup (180ml) lukewarm water
½ teaspoon caster (superfine) sugar
¾ teaspoon dried yeast
2 cups (300g) '00' flour, plus extra for dusting
1 tablespoon extra virgin olive oil
1 teaspoon sea salt flakes, plus extra to serve
200g stracchino cheese, torn
1 bunch (350g) mixed beetroots, trimmed and thinly sliced+
1 tablespoon honey
2 tablespoons red wine vinegar
cracked black pepper, to serve
Place the water, sugar and yeast in a medium bowl and stir to combine. Set aside for 5–10 minutes or until the mixture starts to foam. Place the flour, oil and salt in a large bowl. Add the yeast mixture and mix until a smooth dough forms. Turn out dough onto a lightly floured surface and knead for 5 minutes or until smooth. Place in a lightly greased bowl, cover with a damp tea towel and set aside for 40 minutes or until doubled in size.
Preheat oven to 220°C (425°F). Turn out the dough and divide into 2 equal portions. Add a quarter of the cheese to 1 portion, fold over to enclose, and roll out to an 18cm round. Repeat with the remaining portion.

Lightly grease 2 x 18cm round ovenproof trays and press the dough into each. Place the beetroot, honey and vinegar

in a small bowl and toss to coat. Press the beetroot and remaining cheese into the dough. Cover with a damp tea towel and set aside for 15 minutes or until puffed. Reduce oven temperature to 200°C (400°F). Cook for 22 minutes or until golden. Sprinkle with salt and pepper to serve.

Serves 8
+ We used heirloom, yellow and target varieties of beetroot, but you can use any you like.
TIP
You can use deep pie tins or paella pans for this recipe. You can also make one large focaccia by rolling out the single portion of pastry to a 25 x 35cm rectangle and cooking on a large tray.
Photography: Chris Court
There are no comments for this entry yet.