oven-roasted rib-eye steak
with porcini and port butter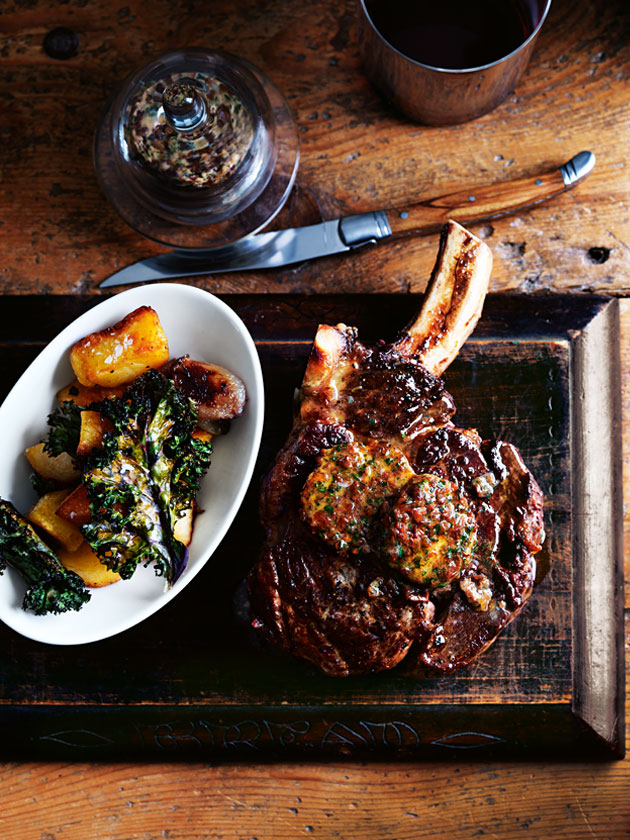 1 x 600g rib-eye steak, trimmed and at room temperature
olive oil, for brushing
sea salt and cracked black pepper
PORCINI AND PORT BUTTER

½ cup (10g) dried porcini mushrooms
⅓ cup (80ml) boiling water
2 eschalots (French shallots), finely chopped
½ cup (125ml) port
125g unsalted butter, softened
1 tablespoon finely chopped flat-leaf parsley leaves
1 tablespoon finely chopped thyme
sea salt and cracked black pepper
To make the porcini and port butter, place the porcini and boiling water in a bowl and set aside for 10 minutes to soak. Drain, reserving the liquid, and finely chop. Place the porcini, reserved liquid, eschalot and port in a small saucepan over medium heat and bring to the boil. Cook for 6–7 minutes or until most of the liquid has evaporated. Place in a large bowl and allow to cool slightly. Add the butter, parsley, thyme, salt and pepper and mix to combine. Place the butter in the centre of a sheet of non-stick baking paper and shape into a 20cm-long log. Roll to enclose, wrap in aluminium foil, twisting the ends to seal, and refrigerate for 30 minutes or until firm+.
Preheat oven to 200°C (400°F). Brush the steak with oil and sprinkle with salt and pepper. Heat a large ovenproof frying pan over high heat. Cook the steak for 3–4 minutes each side. Transfer to the oven and cook, turning halfway, for a further 15 minutes for medium-rare or until cooked to your liking. Loosely cover the steak with aluminium foil and set aside to rest for 6–8 minutes. Slice the butter and serve with the steak. Serves 2
TIPS + TRICKS:
+ The porcini and port butter will keep in the freezer for up to 2 months.
+ When cooking steak, remove it from the refrigerator at least 20 minutes before cooking to allow it to reach room temperature. This will help the steak to cook more evenly. Once cooked, let the steak rest for 5-8 minutes, depending on the size of the steak, to ensure it is as succulent as possible.
Photography: William Meppem
There are no comments for this entry yet.