zucchini chilli tuna pasta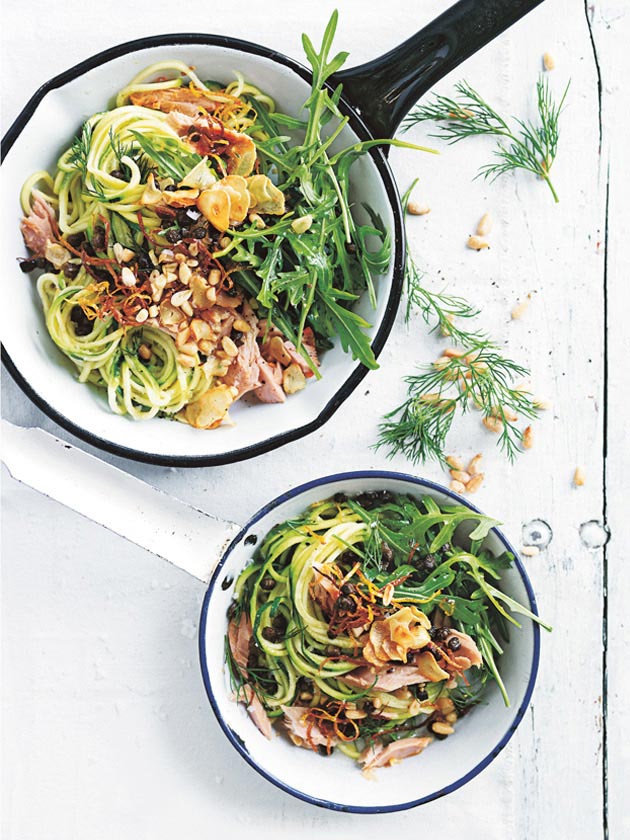 ¼ cup (60ml) extra virgin olive oil

3 cloves garlic, thinly sliced

2 tablespoons capers, drained

2 teaspoons lemon rind strips

6 medium (1kg) zucchini (courgettes), thinly sliced lengthways using a julienne peeler

2 tablespoons lemon juice

½ teaspoon sea salt flakes

¼ cup dill sprigs

2 cups baby rocket leaves

2 x 185g cans tuna in chilli oil, drained

cracked black pepper, for sprinkling

toasted pine nuts, to serve

Heat the oil in a large frying pan over medium heat, add the garlic, capers and lemon rind and cook for 1–2 minutes or until lightly golden and crispy.

Add the zucchini, lemon juice and salt. Cook for 1 minute or until heated through. Remove from the heat, add the dill, rocket and tuna and toss to combine.

Divide between bowls and sprinkle with salt, pepper and pine nuts to serve. Serves 4.

There are no comments for this entry yet.