spicy salami, ricotta and olive calzone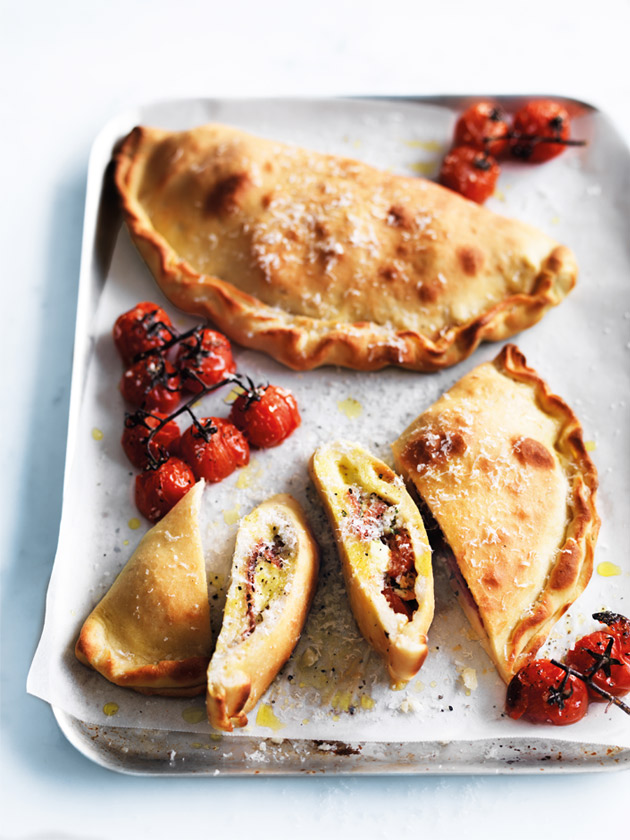 250g truss cherry tomatoes

1 x quantity basic pizza dough+

1 cup (200g) fresh ricotta

150g stracchino cheese++, sliced

100g spicy salami, sliced

½ cup (75g) pitted kalamata olives, torn

½ cup flat-leaf parsley leaves, chopped

sea salt and cracked black pepper

1 tablespoon extra virgin olive oil, for brushing

finely grated parmesan, to serve

Preheat oven to 220°C. Place a large baking tray in the oven

for 5–10 minutes. Cut 6 of the tomatoes in half and set aside.

Divide the dough

in half and roll out on a lightly floured surface to make 2 x 28cm rounds.

Divide the ricotta, stracchino, salami, olives, halved tomatoes and parsley

between half of each of the rounds, leaving a 1cm border.

Sprinkle with salt

and pepper, fold the dough over to enclose the fillings and press the edges to

seal. Remove the tray from the oven and brush with oil.

Carefully transfer the

calzones onto the tray and bake for 8 minutes. Add the remaining tomatoes to

the tray and bake for a further 8–10 minutes, or until golden and crisp. Slice

and sprinkle with parmesan to serve. Serves 4.
+ Find our recipe for basic pizza dough here.
++ Stracchino cheese is a soft, creamy cow's milk cheese. If you can't find it, substitute it with 1½ cups (150g) grated mozzarella.
There are no comments for this entry yet.