sticky char siu roasted pork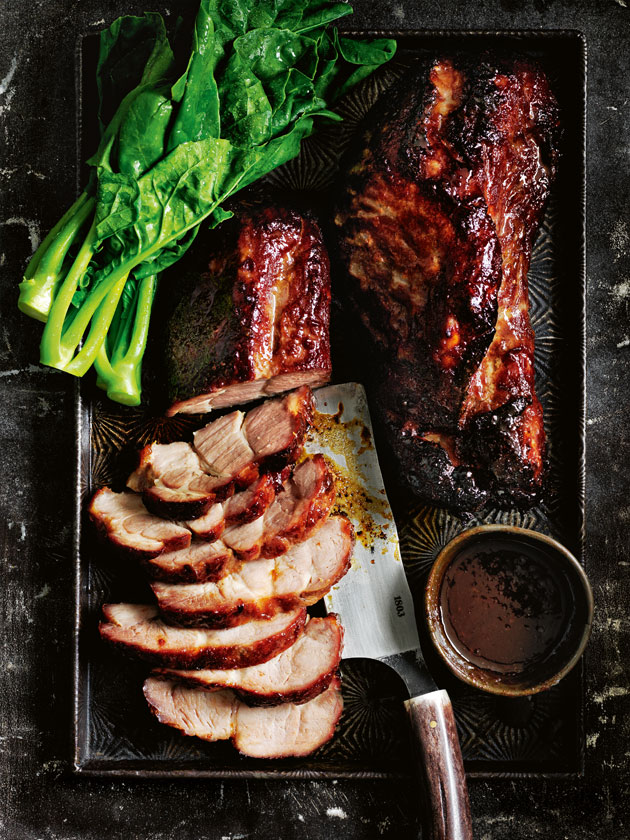 ⅓ cup (120g) char siu (Chinese barbecue) sauce

⅓ cup (80ml) oyster sauce

½ cup (125ml) Shaoxing (Chinese cooking wine)

⅓ cup (115g) honey

½ teaspoon Chinese five-spice

2 cloves garlic, crushed

2 tablespoons finely grated ginger

2 star anise

1 stick cinnamon
½ cup (90g) brown sugar
1.8kg pork neck, halved lengthways

gai lan (Chinese broccoli), steamed, to serve

Place the char siu sauce, oyster sauce, shaoxing, honey, five-spice, garlic, ginger, star anise, cinnamon and ¼ cup (45g) of the brown sugar, in a large bowl and mix to combine. Add the pork neck and toss well to coat. Cover and refrigerate for 8 hours or overnight.
Preheat oven to 180°C (350°F). Place the marinade and remaining sugar in a medium saucepan over medium heat. Bring to the boil and cook for 12–15 minutes or until reduced and sticky. Set the marinade aside, discarding the star anise and cinnamon.
Place the pork on a well-greased wire rack in a large roasting dish. Pour 1cm of boiling water into the dish+. Cook in the oven for 1 hour, basting every 20 minutes with the marinade, until dark golden brown and sticky.
Serve with the remaining marinade and gai lan. Serves 4–6.
+ Make sure the pork isn't touching the water. The water is there to help create steam while cooking.

Karen Martino
Has anyone used this on a pork fillet?