sticky plum and chilli ribs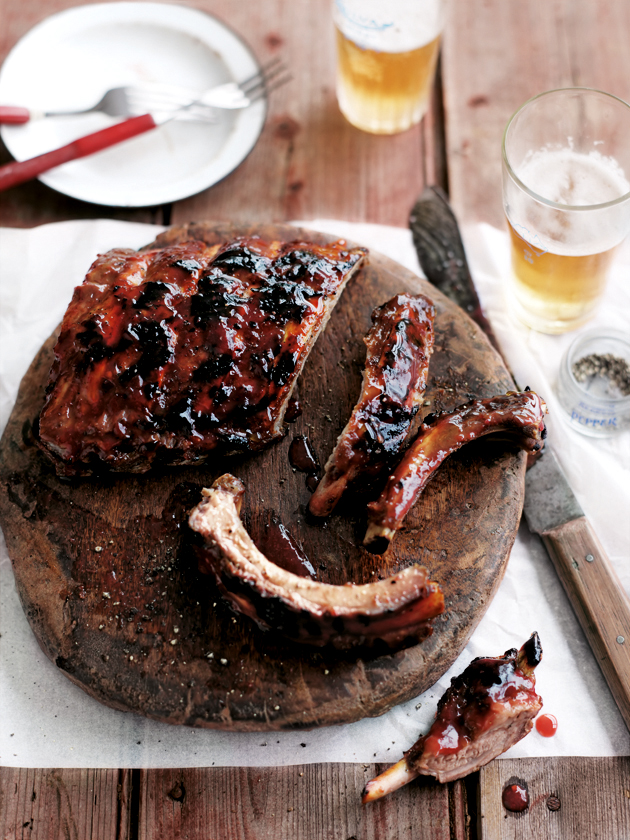 5 coriander (cilantro) roots, roughly chopped
3 cloves garlic, peeled
6cm piece (30g) ginger, peeled and sliced
2kg American-style pork ribs
1 cup (250ml) malt vinegar
1 cup (175g) brown sugar
plum marinade
10 plums, stones removed and chopped
4cm piece (20g) ginger, peeled and sliced
2 cups (350g) brown sugar
1 teaspoon dried chilli flakes

Place the coriander root, garlic, ginger, ribs, vinegar and sugar in a saucepan of cold water over high heat and bring to the boil. Reduce heat to low, cover and cook for 30 minutes. Drain, reserving 1 cup (250ml) of the cooking liquid, and place the ribs in a baking dish. Set aside.
To make the plum marinade, place the plums, ginger, sugar, chilli and the reserved cooking liquid in a saucepan over low heat and cook, stirring, for 2–3 minutes or until the sugar is dissolved. Increase heat to high and boil for 10–15 minutes or until thickened. Remove the ginger and discard.
Place the plum mixture in a food processor and process until just smooth. Pour over the ribs and toss to coat. Place in the fridge for 1 hour to marinate.
Heat a char-grill pan or barbecue over high heat. Add the ribs and cook for 4–5 minutes each side or until browned. Cut into pieces to serve. Serves 4–6.

There are no comments for this entry yet.