redcurrant glazed roast turkey
with crispy tarragon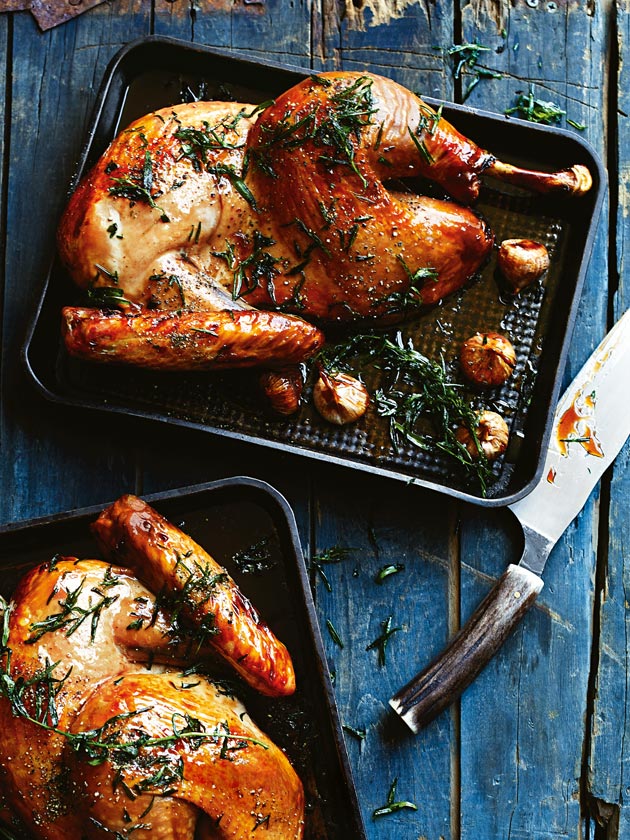 1 sprig bay leaves (about 6 leaves)

2 sprigs rosemary

1 cup (320g) store-bought redcurrant jelly
2 tablespoons Dijon mustard

1 cup (250ml) red wine

½ cup (125ml) maple syrup

2 cups (500ml) chicken stock

12 heads single-clove garlic+, skin on

1 x 4kg turkey, butterflied and halved++
sea salt and cracked black pepper

¼ cup (60ml) extra virgin olive oil

2 bunches tarragon (about 12 sprigs)

Preheat oven to 180°C (350°F). Place the bay leaves, rosemary, jelly, mustard, wine, maple syrup and stock in a medium saucepan over medium heat and bring to the boil, whisking until combined. Pour the glaze into a large deep-sided roasting pan and add the garlic. Add the turkey, skin-side up, and sprinkle with salt and pepper. Cover with aluminium foil and roast for 1 hour. Remove the foil and roast, brushing every 15 minutes with the pan juices, for a further 45 minutes or until the turkey is sticky, golden and the juices run clear when tested with a skewer.
Carefully remove the turkey from the pan, reserving the garlic and any glaze. Loosely cover the turkey with aluminium foil and set aside to rest for 20minutes.

Heat the oil in a medium non-stick frying pan over medium heat. Working in batches, add the tarragon and cook for 30 seconds or until crisp.

Top the turkey with the crispy tarragon, sprinkle with pepper and serve with the reserved garlic and glaze. Serves 6–8

+ Single-clove garlic is available from greengrocers. If you can't find it, use large unpeeled garlic cloves.
++ Butterflying a turkey allows it to cook faster and more evenly. To butterfly a turkey, position the turkey, breast-side down, on a board so the back is facing up and the drumsticks are facing towards you. Using sharp kitchen scissors or chicken shears, cut closely along both sides of the backbone, remove the bone and discard. Turn the turkey breast-side up, and press down firmly on the breastbone to flatten. To halve, use a sharp knife to cut the turkey down the centre. You can ask your butcher to butterfly the turkey for you.
There are no comments for this entry yet.