crispy chicken breast
with cauliflower risotto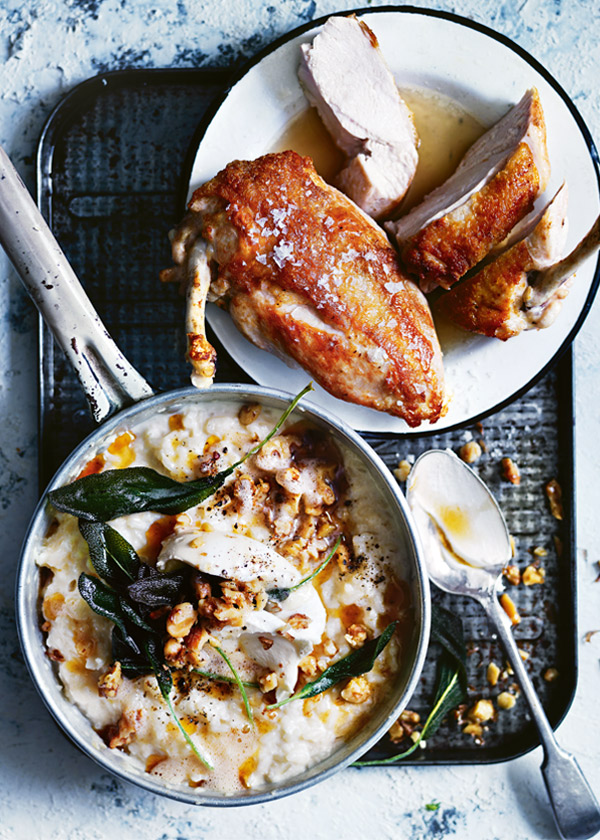 500g cauliflower, trimmed and roughly chopped
100g unsalted butter
1 small brown onion, finely chopped
2 cloves garlic, crushed
⅓ cup (80ml) dry white wine
1½ cups (300g) arborio (risotto) rice
1.5 litres hot chicken stock
2 tablespoons extra virgin olive oil
4 x 200g chicken breast fillets, skin on and wing bone in
sea salt and black cracked pepper
½ cup (50g) walnuts
1 cup sage leaves
mascarpone, to serve

Place the cauliflower in the bowl of a food processor and, with short pulses, process until the mixture is finely chopped. Melt half the butter in a large deep-sided frying pan over medium heat. Add the onion and garlic and cook, stirring occasionally, for 4–5 minutes or until softened.

Add the wine and cook for 2 minutes. Add the rice and cook, stirring, for 1–2 minutes. Cook, stirring frequently, for 18 minutes while adding the stock, 1 cup (250ml) at a time, allowing it to absorb between each addition. Add the cauliflower and cook for a further 5–7 minutes.
While the risotto is cooking, heat the oil in a large non-stick frying pan over high heat. Add the chicken, skin-side down, sprinkle with salt and pepper and cook for 3–4 minutes or until the skin is crisp. Turn, cover with a tight-fitting lid and cook for a further 4–5 minutes or until just cooked through. Remove the chicken from the pan, cover loosely with aluminium foil and set aside.
Wipe out the pan and return to medium heat. Add the walnuts, sage and remaining butter and cook for 2–3 minutes or until browned. Divide the risotto between plates and top with the mascarpone and walnut sage butter. Serve with the chicken. Serves 4.

cece e
Never made Risotto before but as per usual Donna Hay's instructions are fool proof! I used store bought stock and it made the risotto too salty, so be careful of this. I think to give this dish a bit more flavour I would use roasted cauliflower…