roasted cauliflower,
olive and garlic pasta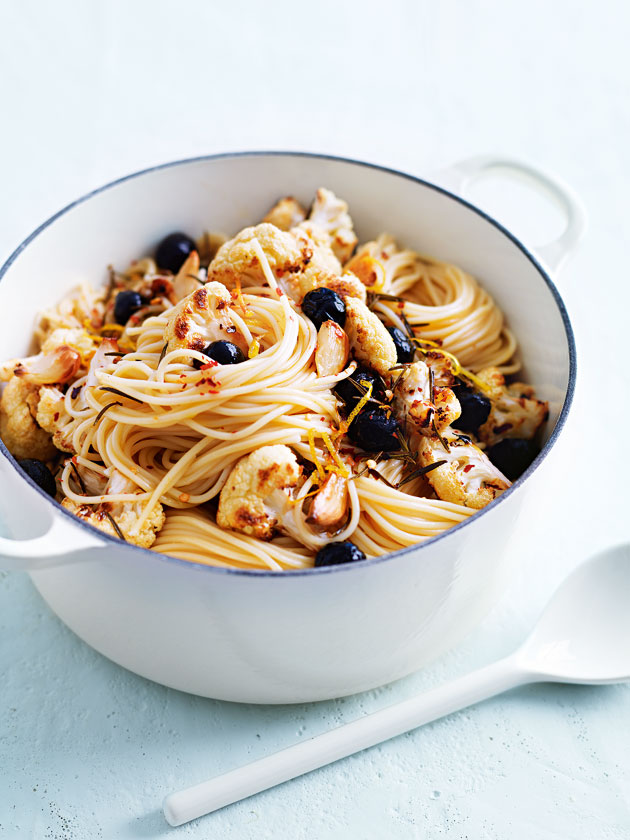 1kg cauliflower, trimmed and chopped
1 cup (160g) black Spanish olives
1 head garlic, peeled
2 tablespoons rosemary leaves
1 teaspoon dried chilli flakes
1 teaspoon shredded lemon zest
¼ cup (60ml) olive oil
2 tablespoons red wine vinegar
400g spaghetti
¼ cup (60ml) lemon juice
½ cup (40g) finely grated pecorino, to serve

Preheat oven to 200°C (400°F). Place the cauliflower, olives, garlic, rosemary, chilli, lemon zest, oil and vinegar on a baking tray and toss to coat. Roast for 15–20 minutes or until the cauliflower is golden and crisp.

While the cauliflower is roasting, cook the pasta in a large pot of boiling salted water for 8–10 minutes or until al dente. Drain the pasta and return to the pot.
Add the roasted cauliflower mixture and lemon juice and toss to combine. Sprinkle with the pecorino to serve. Serves 4

Photography: Chris Court
There are no comments for this entry yet.