sage roasted pork belly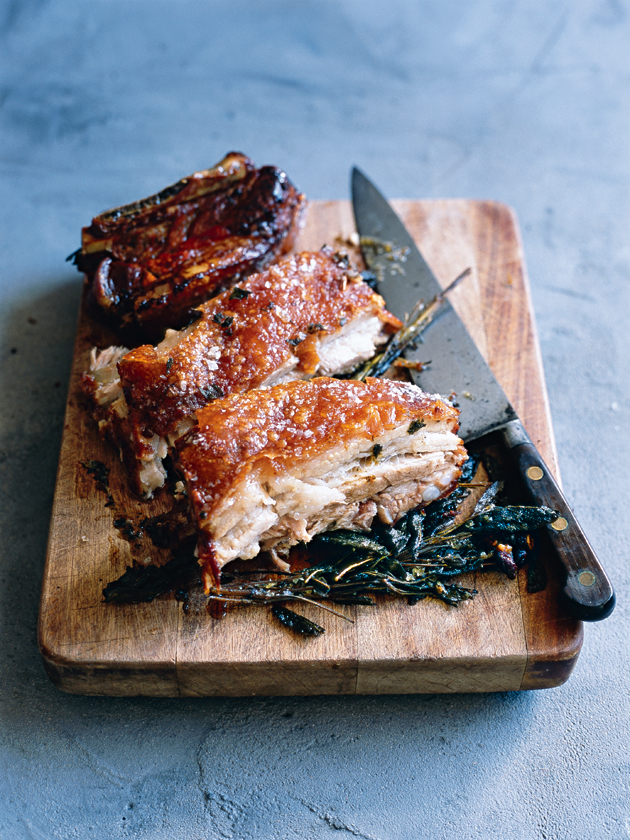 2 heads garlic, cloves separated

2.3kg pork belly, on the bone

¼ cup (60ml) olive oil

⅓ cup sea salt flakes

4 bunches sage

Preheat oven to 160°C (320°F). Arrange the garlic over the base of a baking dish. Rub the olive oil all over the pork belly and rub the salt into the skin. Place skin-side down on top of the garlic and cook for 3 hours.
Increase the heat to 180°C (355°F). Turn over the pork, add the sage and cook for a further 30 minutes or until the skin is golden and crunchy.

donna hay team
Hi Melissa, we haven't tested the recipe on a bbq so cannot advice if you will get the same result with the crackling. We use fan forced setting on our ovens which gives a regular and even cooking temperature. I am concerned that you might not achieve the same level of eveness from a bbq. If you do try, please let us know how it goes! The DH team
Melissa Auteri
Hi team, can this recipe be adapted to the bbq easily using similar temperatures?
donna hay team
Hi Mischa, what a shame. If your pork is young the rind will be quite soft - we find leaving it to dry out in the fridge uncovered for a few hours helps. Also when buying pork belly look for a good ratio of fat and meat. The DH team
Mischa Stratford
Im not sure what happened…. I followed this to the letter but my crackle was chewy and the meat was dry….. I usually have great success with crispy pork belly but this recipe just wasted expensive meat! :( Back to the old way I'm used to….
Mel Franks
This is my go to recipe when I'm having friends round. After the pork has been in the oven for an hour, I put a red apple in a separate oven tray (one apple per person, whole apple stalk and all) then I serve the dish straight from the oven with the pork, the apple and a greek salad that I've prepared earlier in a rammikin pot. Everyone loves it and the whole lot is super easy!!