slow-cooked lamb
with garlic and rosemary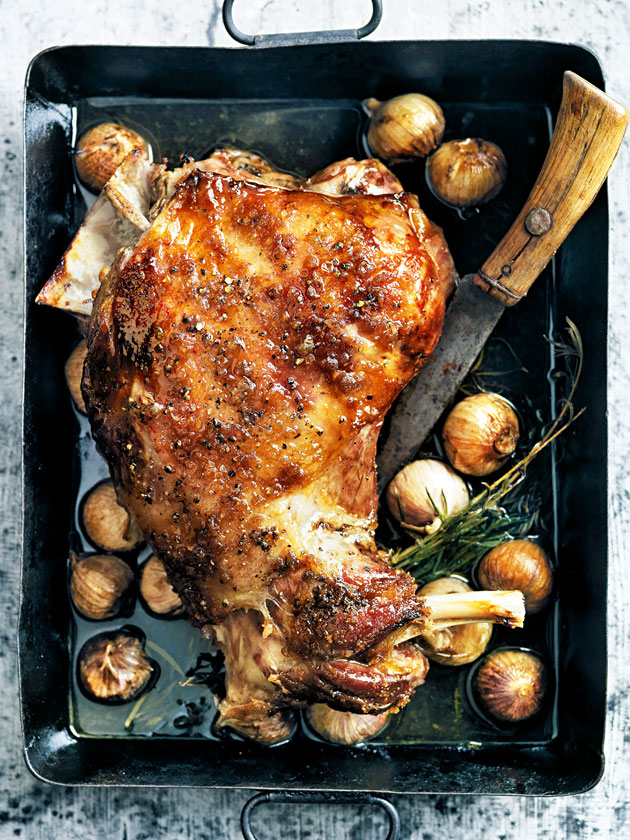 ½ cup (125ml) malt vinegar
½ cup (90g) brown sugar
1 tablespoon olive oil
sea salt and cracked black pepper
2kg lamb shoulder, bone in
18 single-clove garlic, unpeeled
6 sprigs rosemary
1½ cups (375ml) chicken stock

Preheat oven to 180°C (350°F). Place the vinegar, ¼ cup (45g) sugar, oil, salt and pepper in a large bowl and stir to combine. Add the lamb and set aside to marinate for 20 minutes.
Place the lamb, skin-side up, in a large baking dish. Add the garlic, rosemary sprigs, marinade and stock. Sprinkle the lamb with the remaining sugar, cover with aluminium foil and roast for 2 hours and 30 minutes. Remove the foil and roast for a further 30 minutes or until the lamb is cooked to your liking.
Serve with the garlic. Serves 4–6
Tip: Single-clove garlic is a type of 'elephant' garlic. As its name suggests, it has one large clove, rather than a head of garlic that's made up of a cluster of smaller cloves. Single-clove garlic looks similar to a small onion and is easy to peel. Find it at some supermarkets and grocery stores.
Lynette Konkol
This recipe is so delicious. Thanks Donna Hay. I used boneless lamb roast. I baked a tray of mixed vegetables in a separate pan to go with it baby carrot, pumpkin, sweet potatoes, zucchini and potato. Lamb was so tasty and juicy. Yum yum
Georgia Brant
What a lovely recipe! I improvised and used normal garlic and planted them into the skin for extra caramelised garlic infusion as I am addicted! The result was beautiful and went very well with Yorkshire puddings, roast potatoes and roast veggies! 10/10
Robyn Cashman
This is the first time I have marinated my own lamb shoulder and cooked it in the oven. It was beautiful and so very easy. It was a great hit with everyone and I will certainly be making this one again. 10 out of 10 for me.
linda Shore
I dont usually enjoy food that I cook. Its often better when someone else cooks for you. but this was the best slow cooked lamb i have eaten let alone cooked. If I was served that in a restaurant i would be extremely happy,
Andrea Kerin
I made this a few weeks ago, so easy yet result was so amazing! Loved it but now I have been unable to source Lamb Shoulder, can I use Leg for same recipe?