no-peel roasted pumpkin soup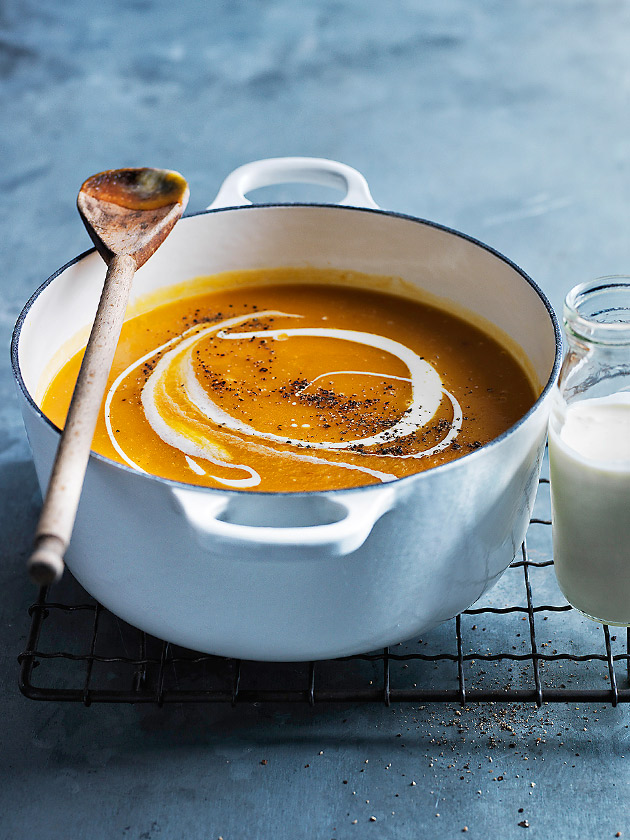 1.5kg butternut pumpkin (squash), halved and seeds removed
2 onions, halved
1 bulb garlic
¼ cup (60ml) extra virgin olive oil
sea salt and cracked black pepper
1 litre chicken stock
2 cups (500ml) water
single (pouring) cream, to serve (optional)
Preheat oven to 200

°

C (400

°

F). Place the pumpkin, onion, cut-side up, and the garlic on a lightly greased large oven tray lined with non-stick baking paper. Drizzle with the oil and sprinkle with salt and pepper.
Cook for 1 hour–1 hour 10 minutes or until onion is caramelised and pumpkin is soft. Set aside until cool enough to handle. Scoop out the flesh of the pumpkin into a large saucepan. Remove the onion and garlic from their skins and add to the pan.
Add the stock and water, and, using a hand-held stick blender, blend the soup until smooth. Place the soup over high heat and bring to the boil to warm through. Sprinkle with pepper and drizzle with cream (if using) to serve. Serves 6.
Click here to watch Donna make this soup
Daniela M
A family favourite. My go to. I add a potato for thickness, small cooked bacon cubes for smokeyness, a dash of Worcestershire sauce and melty cheese on top to serve. Making it right now!! Thanks Donna!!
Georgina Duchesne
Absolutely hands down delicious
Rebecca Gray
This is my favourite pumpkin soup recipe! I had one for ages that I thought was my favourite, tried this one and would not go back. So easy! So delicious!
Raelene Barnes
I have made this for years. Its an absolute favourite. Easy and tasty. A must try.
kaye ball
My most favouirte pumpkin soup recipe. Easy and always delicious. Sometimes i add a little nutmeg and honey. Also if I'm freezing I don't add cream.
Rebecca Wilson
Absolutely delicious, and so easy to make. I add carrots which I peel and roast with the other veggies.
Danielle Lonigro
Was really yummy and easy. I added some harissa and cayenne pepper for a bit of a kick. I also thickened the soup more by letting it simmer on the stove for about 30 minutes, stirring regularly. Best bit about making this soup was the onions coming out of the oven. Definitely leave the skin on while baking!! yum!
RELATED VIDEO