spiced sugar and pecan-crusted ham
with whiskey glaze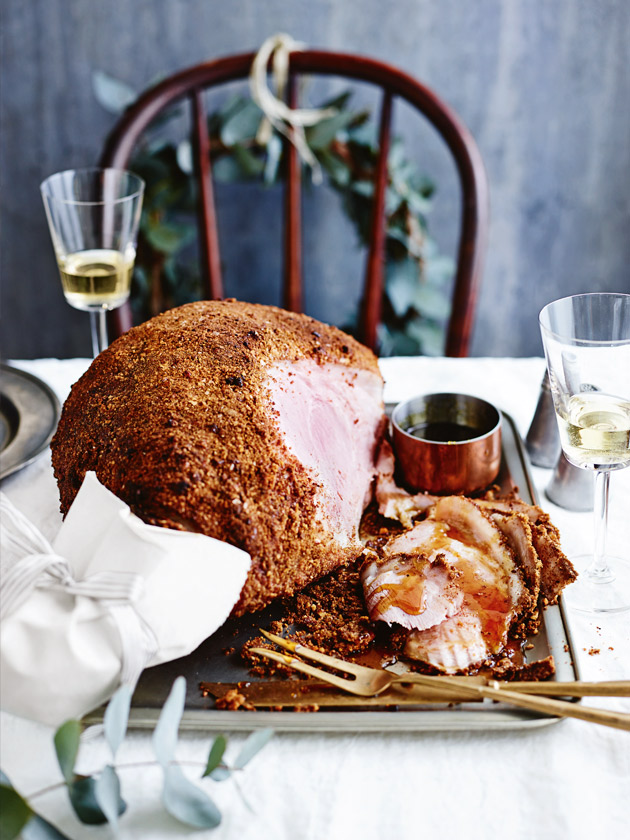 1 cup (175g) brown sugar

1½ cups (180g) pecans

2 cloves garlic, crushed

1 teaspoon mustard powder

1 teaspoon ground allspice

1½ teaspoons smoked paprika

1 teaspoon ground ginger

2 teaspoons sea salt flakes

1 teaspoon ground black pepper

1 x 5kg cured leg ham, rind removed+

1¾ cups (430ml) honey whiskey

2 cups (500ml) water

¼ cup (60ml) maple syrup

Preheat oven to 200°C (400°F). Place the sugar, pecans, garlic, mustard powder, allspice, paprika, ginger, salt and pepper in a food processor and process until the nuts are finely chopped.

Brush the ham with 1 tablespoon of the honey whiskey and press the sugar mixture all over to coat. Place in a large deep-sided roasting tray and wrap the ham hock in aluminium foil. Pour the water and remaining honey whiskey into the pan. Cook for 20 minutes. Reduce the oven temperature to 180°C (350°F) and cook for a further 30–40 minutes or until the crust is dry and golden.

Remove the ham from the tray and pour the cooking liquid into a small saucepan over medium heat. Add the maple syrup to the pan and bring to a simmer. Cook for 3–4 minutes or until reduced and syrupy. Slice the ham and spoon over the whiskey glaze to serve. Serves 10–12.

Tip: You can also make this ham the day before serving and serve cold. The leftover ham will keep refrigerated for up to four days.

+ To remove the rind, use a sharp knife to score the rind around the ham hock and use your fingers to gently pull away the skin.
frances Crousillat
I made it, it was great. I made a gravy with whisky and honey, delicious