burnt honey crème caramel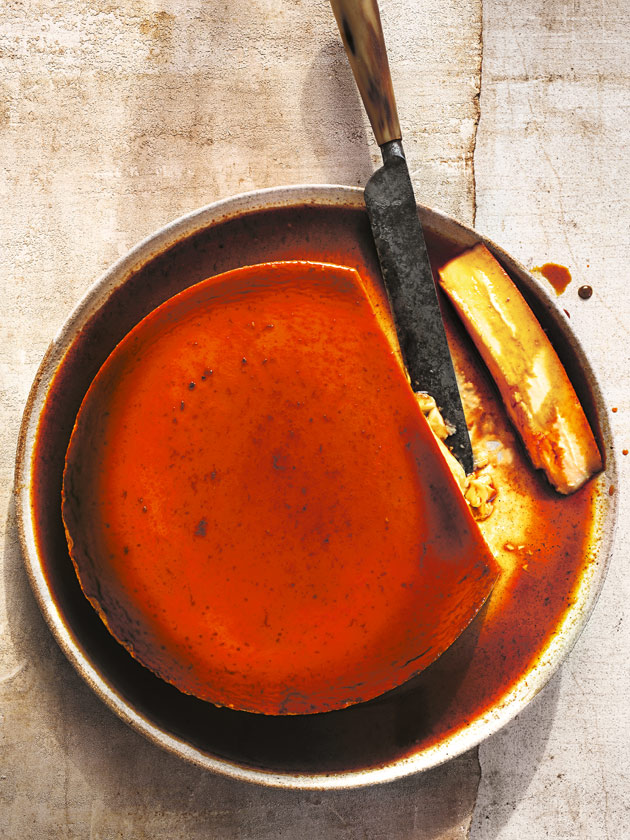 ½ cup (175g) honey

1 tablespoon water

2 cups (500ml) milk

1 cup (250ml) single (pouring) cream
1 teaspoon vanilla extract
3 eggs

8 egg yolks, extra

⅔ cup (150g) caster (superfine) sugar

Preheat oven to 150°C (300°F). Place the honey in a small saucepan over high heat. Bring to the boil and cook for 5–6 minutes or until very dark brown and starting to smoke. Remove from heat and carefully add the water, swirling to combine.
Pour the honey into a 20cm round cake tin and set aside to cool completely. Place the milk, cream and vanilla in a medium saucepan over medium heat and bring to just below the boil. Remove from heat.
Place the eggs, yolks and sugar in a large bowl and whisk until well combined. Gradually add the cream mixture to the bowl and whisk to combine. Return the egg mixture to the saucepan and place over low heat, stirring constantly, for 2–3 minutes or until warmed through. Strain the mixture and pour into the prepared tin.
Carefully place the tin in a large baking dish and pour in enough boiling water to come halfway up the sides. Cook for 32–35 minutes or until just set with a slight wobble in the centre.
Remove tin from tray and set aside at room temperature for 30 minutes or until cooled. Refrigerate for 2 hours or until chilled. Loosen the edges with a small knife.
Quickly dip the base in a bowl of hot water to loosen. Turn out onto a serving plate and remove the tin. Serve immediately. Serves 6.
There are no comments for this entry yet.