crispy miso and ginger fried chicken
with miso mayonnaise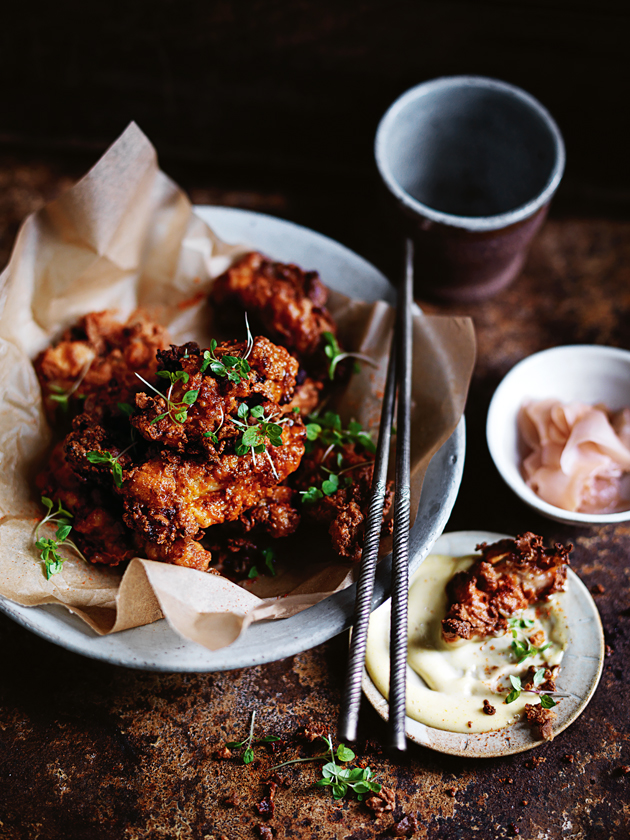 ½ cup (110g) yellow miso paste

1 tablespoon finely grated ginger

2 cloves garlic, crushed

¼ cup (60ml) mirin (Japanese rice wine)

2 tablespoons rice wine vinegar

800g skinless chicken thighs, cut into 2cm-wide strips

vegetable oil, for deep-frying

¾ cup (110g) self-raising (self-rising) flour

¾ cup (150g) cornflour (cornstarch)

¼ teaspoon cayenne pepper, for sprinkling

baby (micro) mint leaves (optional), to serve

store-bought pickled ginger, to serve

miso mayonnaise
½ cup (150g) Japanese mayonnaise

1 teaspoon hot English mustard

2 teaspoons yellow miso paste

1 teaspoon rice wine vinegar

Place the miso, ginger, garlic, mirin and vinegar in a large bowl and mix to combine. Add the chicken, toss to coat and cover with plastic wrap. Place in the refrigerator to marinate for 30 minutes. Remove from the fridge and set aside for 30 minutes to come to room temperature.

Fill a large saucepan two-thirds full with the oil and place over medium heat until the temperature reaches 180°C (350°F) on a deep-frying thermometer. Place the self-raising flour and cornflour in a large bowl and whisk to combine. Place the marinated chicken in the flour mixture and press to coat.

Cook the chicken, in batches, for 2–3 minutes or until golden and cooked through. Drain on paper towel and keep warm.To make the miso mayonnaise, place the mayonnaise, mustard, miso and vinegar in a small bowl and mix to combine. Sprinkle the chicken with the cayenne pepper and serve with the mayonnaise, mint and pickled ginger. Serves 6.

Jayne Pennington
This recipe is a must make - super tasty. I actually made it into fried chicken burger's and every single person raved on about it!