slow cooked beef ragu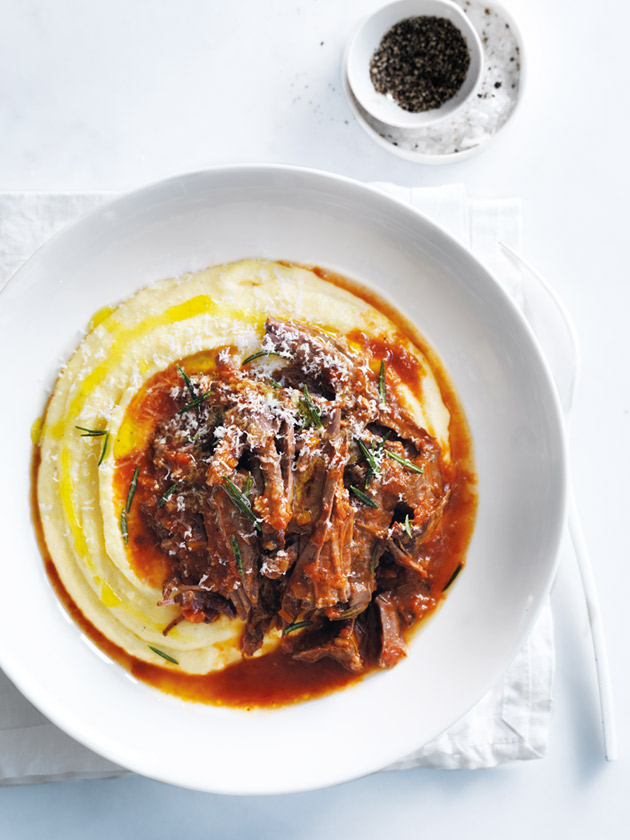 ¼ cup (60ml) extra virgin olive oil
1.5kg beef brisket, cut into 4 pieces
sea salt and cracked black pepper
1 onion, chopped
3 cloves garlic, crushed
1 carrot, peeled and chopped
4 sprigs rosemary, plus extra, to serve
1 cup (250ml) red wine
1½ cups (375ml) beef stock
1½ cups (375ml) water
2 x 400g cans chopped tomatoes
¼ cup (60ml) red wine vinegar
2 tablespoons tomato paste
creamy polenta, to serve (see tip)
finely grated parmesan, to serve

Preheat oven to 180°C (350°F). Heat 2 tablespoons of the oil in a 4-litre-capacity heavy-based ovenproof saucepan over high heat. Sprinkle the beef with salt and pepper and cook, in batches, for 3–4 minutes each side or until browned. Remove from the pan and set aside. Add the remaining oil, onion, garlic, carrot and rosemary and cook, stirring, for 2–3 minutes or until softened. Add the wine, stock, water, tomatoes, vinegar, paste and beef and bring to a simmer. Cover and transfer to the oven.
Cook for 2½ – 3 hours or until tender, turning brisket half way. Shred using two forks and serve with polenta, parmesan and the extra rosemary. Serves 4.

Tip: To make the creamy polenta, place 1 litre of water in a medium saucepan over high heat and bring to the boil. Reduce the heat to medium, whisk in 1 cup (170g) instant polenta and cook, whisking constantly, for 2–3 minutes or until thickened. Remove from the heat and whisk in 1 cup (80g) finely grated parmesan, 100g unsalted butter, ½ cup (125g) single (pouring) cream and sea salt and cracked black pepper. Serves 4.
Joc Mil
It was too juicy for me, removed the meat and reduced it for another hour on the stove post oven l, then added the shredded meat back in = absolutely incredible. Thanks Donna x
Diane Keith
This is a cracker, works beautifully and tastes great. I changed the brisket for chuck steak, cut into large cubes, works just as well, thanks Donna
Amy Duke
Is it possible to cook this in a slow cooker instead of the oven? if i use a slow cooker will i need to adjust the cooking time?