blue-cheese stuffed pork and bacon roast
with sweet parsnip chips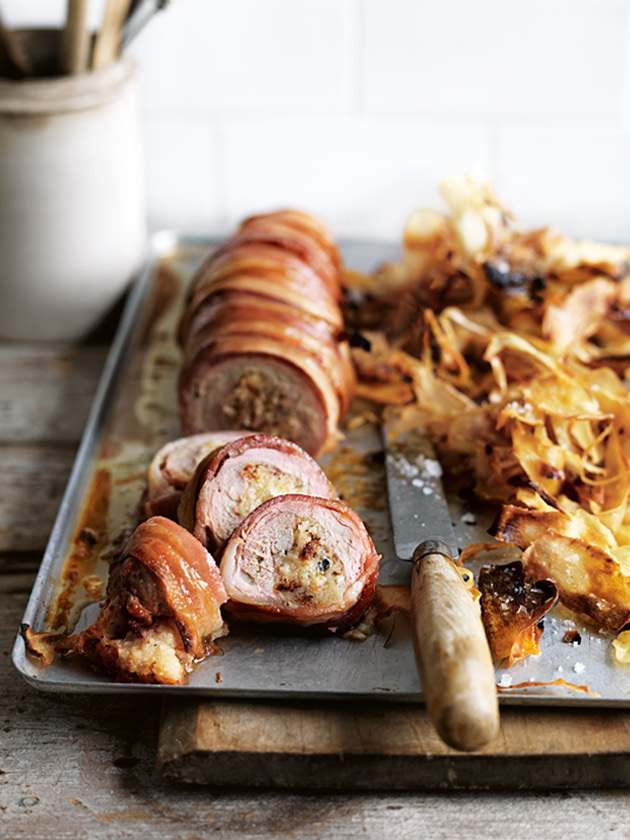 1kg parsnips, peeled and thinly sliced
¼ cup (60ml) extra virgin olive oil
2 tablespoons brown sugar

1 x 600g pork fillet, trimmed and butterflied
100g creamy blue cheese, crumbled
1 cup (70g) fresh sourdough breadcrumbs
sea salt and cracked black pepper
8 rashers (200g) streaky bacon
Preheat oven to 240°C (475°F). Place the parsnip, oil and sugar in a large bowl and toss to coat. Divide between 2 large oven trays and cook for 6–8 minutes. Turn and cook for a further 5–6 minutes or until browned and crispy. Set aside.
While the parsnip is cooking, use a meat mallet to pound the pork to 1cm thick. Place the cheese, breadcrumbs, salt and pepper in a large bowl and mix to combine. Spoon the mixture onto the pork and roll to enclose.
Wrap the bacon around the pork and place the roll, seam-side down, on a large oven tray. Cook for 15 minutes or until the bacon is crispy and the pork is cooked through. Slice the pork and serve with the parsnip chips. Serves 4.
donna hay team
Hi, Vanessa. Yes, that's right! The DH Team.
Vanessa Goodwin
Do you cook the pork at 240 degrees - the same as the parsnip?
donna hay team
Hi Georgia, Yes - if you can peel them into thin ribbons. You may need to check the cooking time and reduce slightly as they will be a little thinner. Thanks, dh team
Georgia Pittock
Hi, Can you peel the parsnips rather than thinly slice, or would this leave them too thin? thanks!
donna hay team
Hi Fiona, you could use a soft brie or goat's curd. And why don't you try some sweet potato with the parsnip - delicious! The DH team
Fiona Fahy
Hi are there any other cheeses you would recommend in this recipe? Also what other veggies would suit to serve with parsnips? Thx Fiona
RELATED VIDEO