red velvet up-in-the-air cake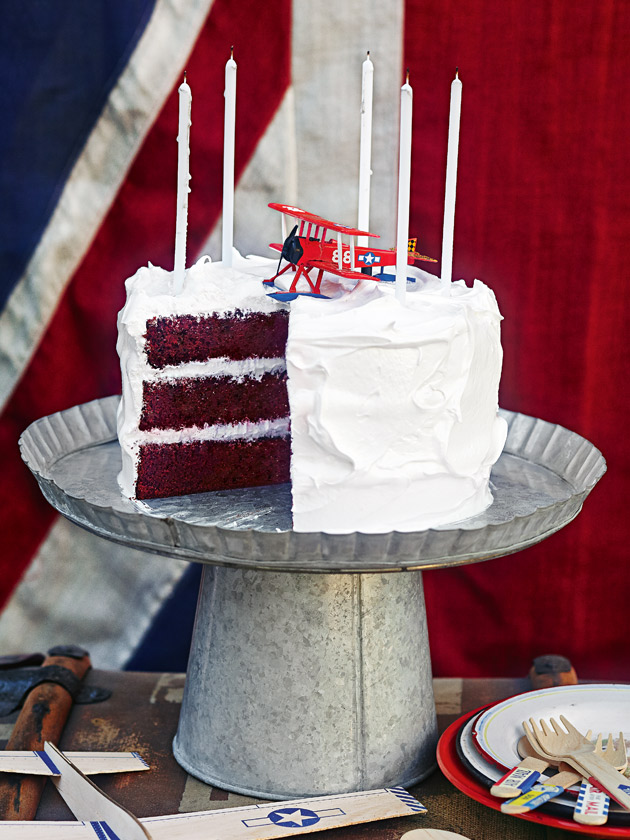 2½ cups (375g) self raising (self-rising) flour, sifted

1¾ cups (385g) caster (superfine) sugar

½ cup (50g) cocoa powder, sifted

250g unsalted butter, melted

4 eggs, lightly beaten

1¾ cups (430ml) milk

1 teaspoon vanilla extract

¼ cup (60ml) red food colouring

toy plane, to decorate (optional)

marshmallow icing
6 eggwhites

¾ teaspoon cream of tartar

1½ cups (330g) caster (superfine) sugar

Preheat oven to 160°C (325°F). Line a lightly greased 20cm-round, deep-sided loose-bottomed cake tin with non-stick baking paper.
Place the flour, sugar, cocoa, butter, eggs, milk, vanilla and food colouring in a large bowl and whisk until well combined. Pour into the prepared tin. Place on a baking tray and bake for 1 hour 30 minutes or until cooked when tested with a skewer. Cool in the tin for 10 minutes before turning out on a wire rack to cool completely.
To make the marshmallow icing, place the eggwhites, cream of tartar and sugar in a large heatproof bowl over a saucepan of simmering water and whisk with a hand-held electric mixer for 8 minutes or until thick. Remove from the heat and whisk for a further 8 minutes or until cooled to room temperature and thick.
Using a serrated knife, trim to even the top of the cake. Cut the cake, horizontally, into 3 layers. Place the bottom layer on a cake stand or plate and spread 1 cup (250ml) of the icing evenly over the cake. Repeat with the cake layers and icing, finishing with the remaining icing.
Using a large palette knife, spread the icing roughly over the whole cake to give a fluffy, cloud-like effect. Top with the plane, to decorate. Serves 12–14.
donna hay team
Hi Prue, as the marshmallow icing is whipped and delicate, this cake is best iced the day you serve. Hope this helps. The DH Team
Prue Mann
Can this cake be iced the day before?