strawberry and vanilla macaron trifle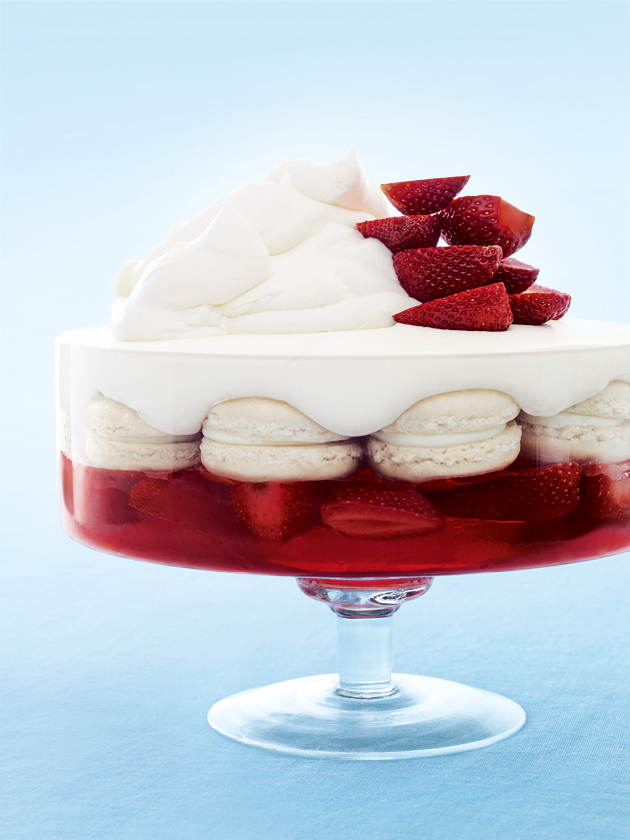 300g store-bought vanilla macarons
1 tablespoon vanilla extract
2 cups (500ml) single (pouring) cream, whipped
250g strawberries, halved
strawberry jelly
2½ teaspoons gelatine powder
3 cups (750ml) cranberry juice
½ cup (110g) caster (superfine) sugar
500g strawberries, halved

To make the strawberry jelly, place the gelatine and ½ cup(125ml) cranberry juice in a bowl and stir to combine. Set aside for 5 minutes or until the gelatine is absorbed. Place the remaining cranberry juice and sugar in a saucepan over medium heat and stir until the sugar is dissolved. Bring to the boil and cook for 1 minute. Remove from the heat, add the gelatine and stir to combine. Set aside to cool for 20 minutes.
Arrange the strawberries in the base of a 4 litre-capacity bowl and pourover the jelly mixture. Refrigerate for 2–3 hours until set.To assemble, arrange the macarons on the jelly. Fold the vanilla extract through the cream and layer over the macarons. Top with strawberries to serve. Serves 6–8.

There are no comments for this entry yet.