crispy leaf potatoes with oregano salt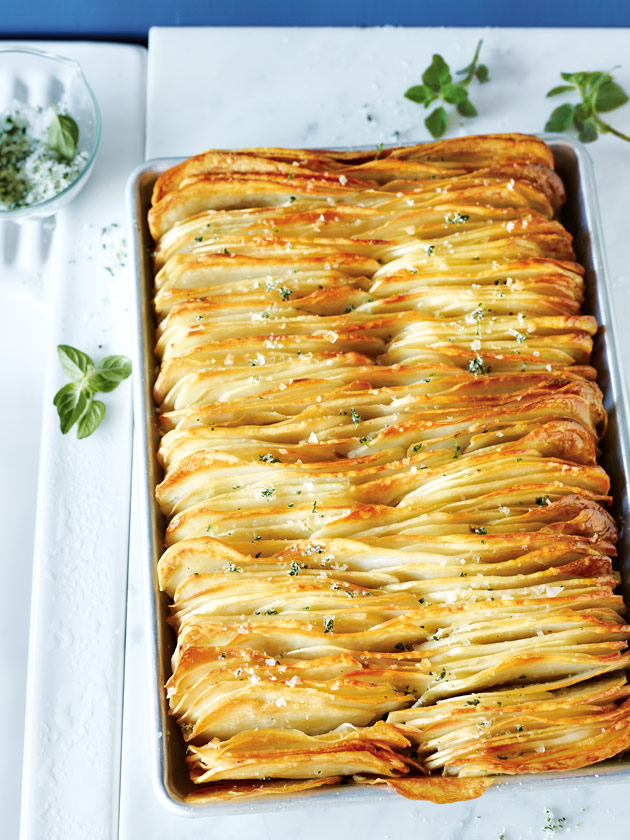 5.5kg large sebago (starchy) potatoes, peeled

1 x 320g jar duck fat, melted

1 tablespoon sea salt flakes

1 teaspoon cracked black pepper

¼ cup oregano leaves

2 tablespoons sea salt flakes, extra

Preheat oven to 200°C (400°F). Trim the edges of each potato to make large rectangles and thinly slice on a mandolin. Place in a large bowl with the duck fat, salt and pepper and toss well to combine.
Working in batches, arrange the potatoes upright from right to left in a 37cm x 24cm baking tray. Repeat with the remaining potatoes. Roast for 1 hour 15 minutes or until the potatoes are tender, golden and crisp.

To make the oregano salt, place the oregano and half the extra salt in a small food processor and process until finely chopped. Transfer to a small bowl and add the remaining salt. Serve with the potatoes. Serves 8–10.

donna hay team
Hi Jane, you can use extra virgin olive oil. The dh team
Jane Lukan
I prefer to use non animal products - can you advise a suitable substitute for the duck fat
donna hay team
Hi Mary Ann, yes you can print. There is a small round print button under the picture of the recipe - the first one next to save. The DH team
MaryAnn Pletcher
Am I now able to print this recipe? I there a print button?