easy glazed christmas ham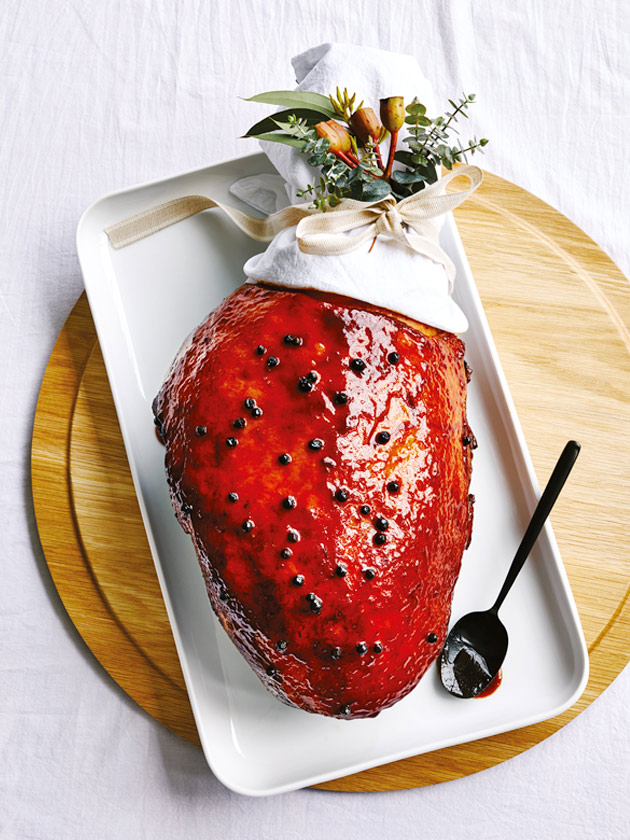 1.5 litres orange juice
3 cups (660g) firmly packed light brown sugar
1 cup (250ml) pomegranate molasses
1 tablespoon juniper berries

¼ cup

(70g) Dijon mustard

1 x 6–7kg smoked ham leg
Place the orange juice, sugar, pomegranate molasses, juniper berries and mustard in a large saucepan over high heat and stir to combine. Bring to the boil, reduce the heat to medium and simmer, stirring occasionally, for 10 minutes or until reduced and syrupy.
Preheat oven to 200°C (400°F). Use a sharp knife to score the skin around the sides and hock of the ham, before using your fingers to gently remove the rind. Trim any excess fat. Wrap the ham hock in non-stick baking paper then aluminium foil. Place the ham, top-side (or fat-side) down, in a large deep-sided roasting pan.
Pour the glaze over the ham and roast for 20 minutes. Turn and roast, basting every 10 minutes with the glaze, for a further 20 minutes or until the ham is golden and sticky. Serve the ham with any remaining glaze. Serves 12–14
Donna's note: This is my go-to glazed ham of the season. It's my cheat's method that rules out unnecessary basting but brings all the sticky-sweet flavour we love! Be sure to tie the hock with some calico or pretty ribbon for a festive finish.
Photography: Con Poulos
There are no comments for this entry yet.