marble cake with chocolate icing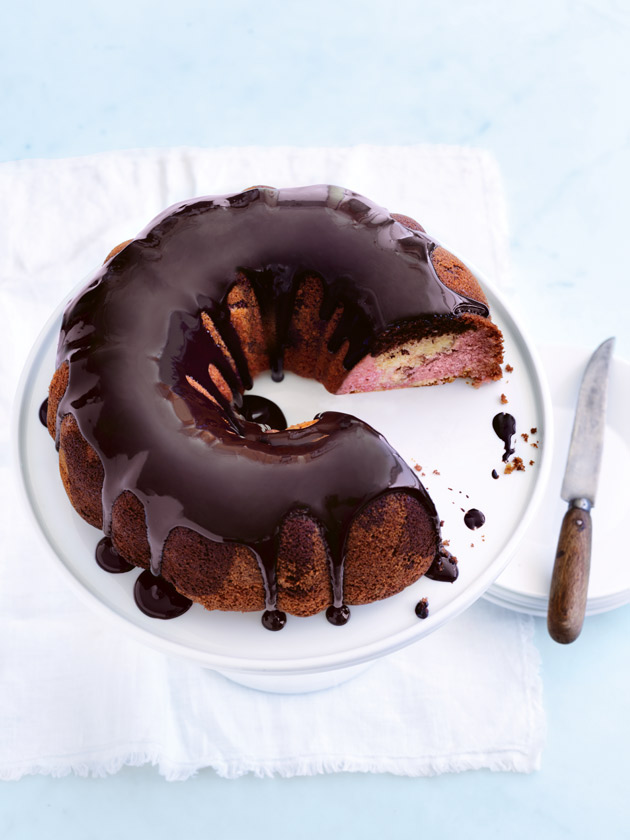 250g unsalted butter, chopped and softened

1 ¼ cups (275g) caster sugar

1 teaspoon vanilla extract

4 eggs

2 ¼ cups (335g) self-raising flour

1 cup (250ml) milk

½ teaspoon pink food colouring

¼ cup (25g) cocoa powder, sifted

chocolate icing
½ cup (80g) icing sugar mixture, sifted

½ cup (50g) cocoa, sifted

⅓ cup (80ml) boiling water

Preheat oven to 160°C (325°F). Place the butter, sugar and vanilla in the bowl of an electric mixer and beat for 4–5 minutes or until light and creamy. Add the eggs, one at a time, beating well after each addition. Add the flour and milk and beat until just combined.

Divide the mixture between 3 bowls. Colour one portion with the pink colouring. Add the cocoa to the second bowl and mix to combine.

Grease a 3-litre bundt tin and spoon alternate spoonfuls of pink, chocolate and plain cake mixture into the tin. Swirl with a butter knife. Bake for 45–50 minutes or until cooked when tested with a skewer. Place the tin on a wire rack to cool slightly, before turning the cake out to cool completely.

To make the chocolate icing, place the icing sugar mixture, cocoa and boiling water in a large bowl and whisk until smooth.

Spoon the icing over the cake to serve. Serves 8–10.

Tip: To create the perfect swirl, just drag the butter knife through the mixture 2–3 times, otherwise the batter will mix too much together.
There are no comments for this entry yet.