chorizo and prawn skewers
with piri piri sauce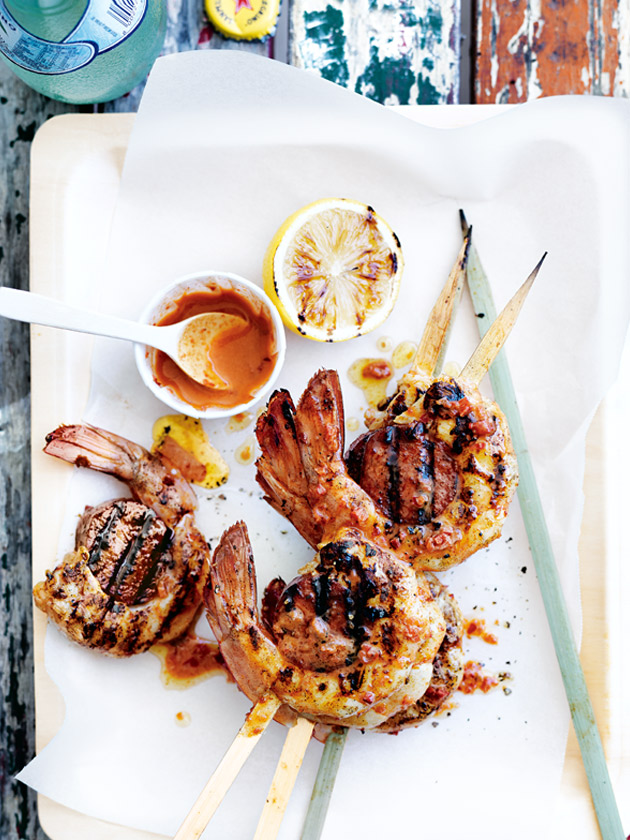 16 extra large green (raw) prawns, peeled with tails intact

16 slices chorizo
extra virgin olive oil, for brushing

lemon halves, grilled, to serve

piri piri sauce
1 clove garlic, crushed

2 long red chillies, deseeded and chopped

¼ cup (60ml) lemon juice

¼ cup (60ml) extra virgin olive oil

¼ teaspoon cayenne pepper

1 teaspoon smoked paprika

2 teaspoons caster sugar

sea salt and cracked black pepper

To make the piri piri sauce, place the garlic, chilli, lemon juice, oil, cayenne pepper, paprika, sugar, salt and pepper in a small food processor and process until a coarse paste forms.

Halve the sauce and set one portion aside. Preheat a char-grill pan or barbecue over high heat. Wrap each prawn around a slice of chorizo and thread 2 prawns onto each skewer.

Brush with one portion piri piri sauce and oil and sprinkle with salt and pepper. Cook the skewers for 3 minutes each side or until the prawns are cooked through. Serve with reserved piri piri sauce and grilled lemon. Makes 8.

There are no comments for this entry yet.