sesame prawn toasts with chilli oil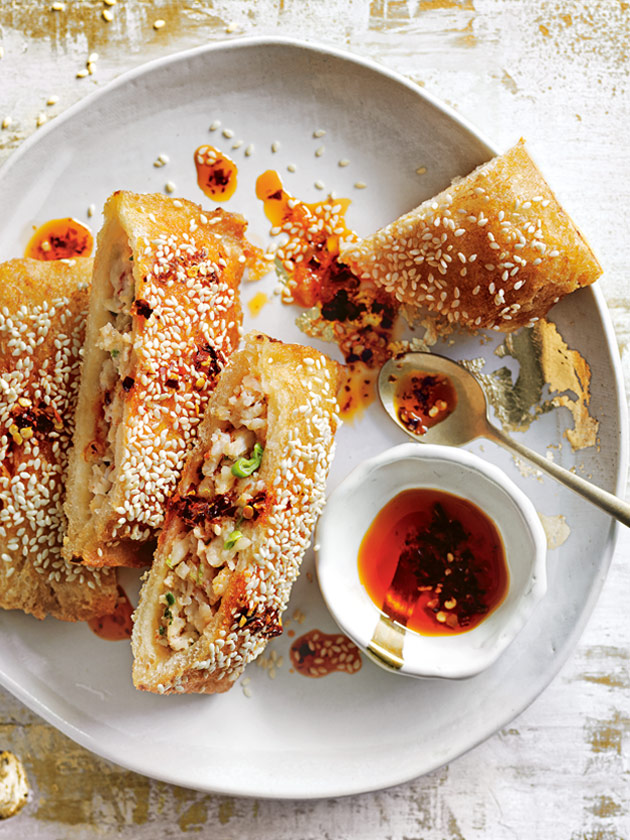 250g green (raw) tiger prawns (shrimp), peeled and deveined

2 eggwhites

2 teaspoons sesame oil

1 clove garlic, crushed

1 green onion (scallion), thinly sliced

1 tablespoon oyster sauce

1 teaspoon white (granulated) sugar

16 slices white bread

2 tablespoons white sesame seeds

vegetable oil, for deep-frying

chilli oil, to serve

Place the prawn, 1 of the eggwhites, sesame oil, garlic, onion, oyster sauce and sugar in a small food processor and pulse until finely chopped. Place half the bread on a clean surface and place heaped tablespoons of the prawn mixture in the middle of each.
Sandwich with the remaining bread, pressing the edges to seal. Cut the crusts and discard. Press well again to seal the edges by pinching with your fingers.
Place the remaining eggwhite in a small bowl and lightly whisk. Brush each sandwich with eggwhite and sprinkle with sesame seeds.
Half-fill a large saucepan with oil and place over medium heat until the temperature reaches 180°C (350°F) on a deep-frying thermometer. Cook the prawn toasts, in batches, for 3 minutes each side or until golden brown.
Remove with a slotted spoon and drain on paper towel. Slice the prawn toasts and serve with chilli oil. Serves 4.

There are no comments for this entry yet.