sticky soy and sriracha chicken wings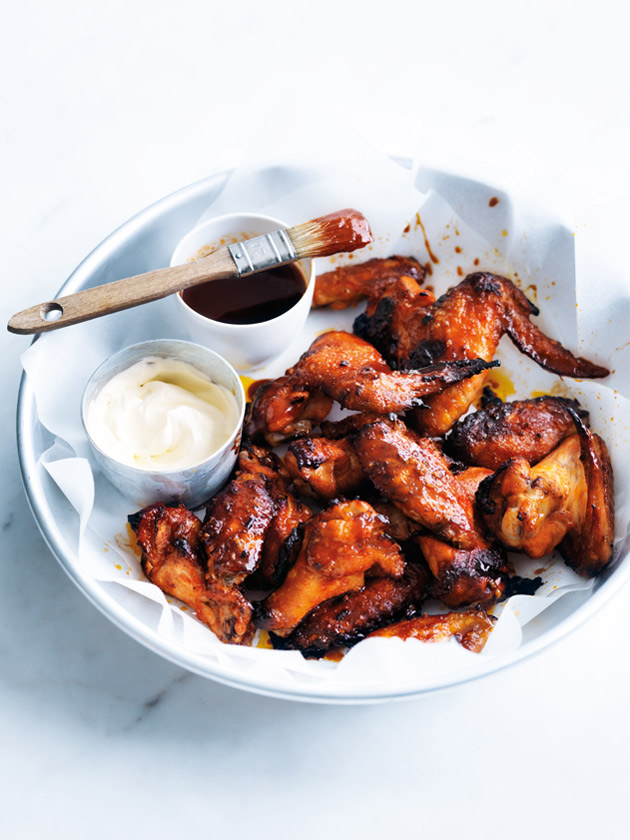 ½ cup (125ml) sriracha hot chilli sauce+

⅓ cup (120g) honey

2 tablespoons soy sauce

2 cloves garlic, crushed

1kg chicken wings sour cream, to serve

Preheat oven to 180°C. Place the sriracha, honey, soy and garlic in a large bowl and mix to combine. Reserve ⅓ cup of the marinade and set aside. Add the chicken to the bowl and toss to combine. Cover and refrigerate for 20 minutes.
Place the chicken on 2 large lightly greased baking trays lined with non-stick baking paper. Cook, turning halfway and brushing with reserved marinade, for 30–35 minutes or until golden and sticky. Serve with the sour cream. Serves 4.

+ Sriracha hot chilli sauce is a spicy and tangy sauce, originally from Thailand. It's commonly used in Thai and Vietnamese dishes, and is available from the Asian aisle in most supermarkets and from Asian supermarkets.
Tip: You can also use the soy and sriracha marinade by brushing over a whole chicken before roasting, or on lamb cutlets or pork fillet.
Rheena Krishnan
too good! might need to bake longer.. just keep an eye and watch out for the caramelisation you want.
Heidi P
Hot chicken wings are one of my husband's favourite foods - and he now prefers my (Donna's!) "homemade" wings (with this recipe) to any he's had at any restaurant! Their supercharged kick is second to none.