pink vanilla cake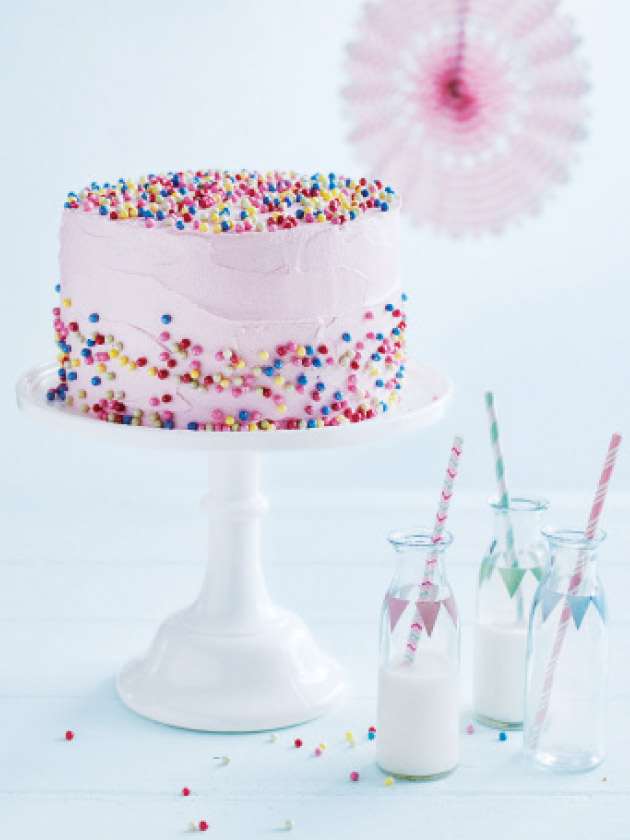 3¾ cups (565g) self raising (self-rising) flour, sifted

2½ cups (550g) caster (superfine) sugar

375g unsalted butter, melted

6 eggs

2¼ cups (560ml) milk

2 teaspoons vanilla extract

130g rainbow soft sugar pearls, to decorate+

vanilla butter icing
500g unsalted butter, softened

4 cups (640g) icing (confectioner's) sugar, sifted

2 teaspoons vanilla extract

pink food colouring

Preheat oven to 160°C (325°F). Lightly grease 2 x 20cm round cake tins and line the bases and sides with non-stick baking paper. Set aside.
Place the flour, sugar, butter, eggs, milk and vanilla in a large bowl and whisk until well combined. Divide the mixture between the prepared tins. Bake for 1 hour 10 minutes–1 hour 20 minutes or until cooked when tested with a skewer. Cool in the tins for 5 minutes before turning out onto wire racks to cool completely.
To make the vanilla butter icing, place the butter in the bowl of an electric mixer and beat for 6–8 minutes or until pale and creamy. Scrape down the sides of the bowl, add the icing sugar and vanilla and beat for a further 10–15 minutes or until light and fluffy. Add a few drops of food colouring and beat until well combined.
To assemble, trim the top of the cakes and halve each one horizontally. Place the bottom layer on a cake stand or serving plate. Using a palette knife, spread 1 cup of the icing on the bottom layer. Top with another layer of cake and repeat the process with the icing and cake.
Spread the sides and top of the cake with the remaining icing, taking care to create a smooth finish. Press the pearls into the bottom sides of the cake and sprinkle over the top of the cake to serve. Serves 12–14.
+ You can find soft sugar rainbow pearls in the baking section of the supermarket, at cake decorating stores and online.
Erica Jennings
I made this cake in four different coloured layers for my daughter's birthday unicorn cake and it was so lovely and moist and people raved about it. I made the cake mix as directed but separated it into four even bowls to mix with food colouring and baked each tin at 160 degrees for 30 minutes. I assembled the cakes the next day with the recommended icing which worked perfectly. I never thought a simple vanilla cake would get so much love!
donna hay team
Hi Cara, we recommend storing the cake out of the fridge in an airtight container. The DH Team
Cara M
If I make the cake the day before (and ice it the day it is to be eaten) how should I store the cakes to ensure they stay fresh? Thanks
Phillip Thacker
Awesome recipe, so easy and totally deliscious… wish I could post a pic… it looked so good.