quinoa, zucchini and haloumi burgers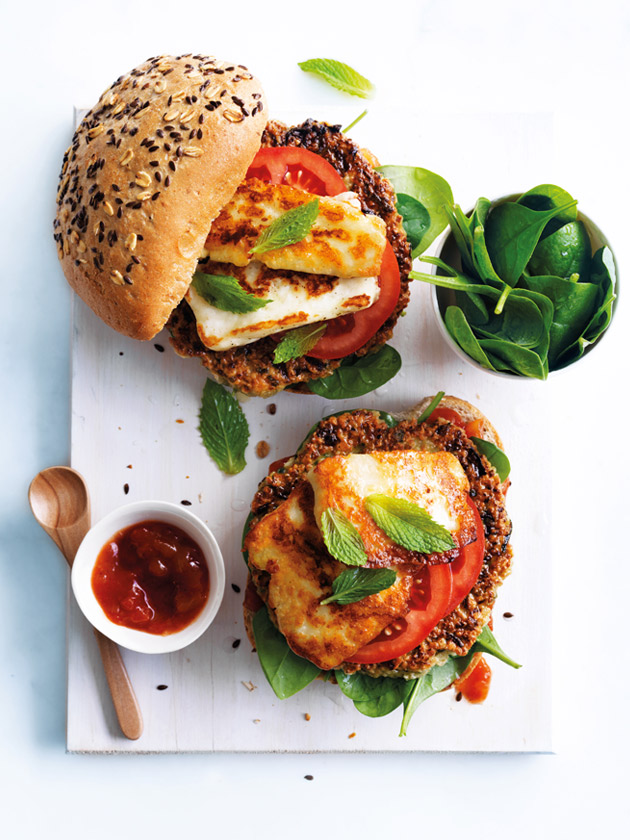 1½ cups (285g) cooked white quinoa+

1 medium (120g) zucchini, grated

1 cup mint leaves, chopped, plus extra to serve

2 eggs, lightly beaten

1 cup (150g) plain flour

sea salt and cracked black pepper

2 tablespoons extra virgin olive oil

250g haloumi, sliced

4 wholegrain bread rolls, halved

⅓ cup (90g) store-bought tomato relish

2 cups (50g) baby spinach leaves

2 vine-ripened tomatoes, sliced

Place the cooked quinoa, zucchini, mint, eggs, flour, salt and pepper in a bowl and mix to combine.
With floured hands, shape the mixture into 4 patties and flatten to 1cm-thick. Heat half the oil in a large non-stick frying pan over medium heat and cook the patties for 3–4 minutes each side or until golden. Set aside.

Add remaining oil and cook the haloumi for 1–2 minutes each side or until golden. Top the rolls with the relish, spinach, patties, tomato, haloumi and extra mint. Serves 4.

+ Find white quinoa in the health food aisle of most supermarkets or in health food stores. To cook quinoa, place ½ cup quinoa and 1 cup water in a small saucepan over high heat and bring to the boil. Reduce heat to low, cover and cook for 10–12 minutes or until cooked. Allow to cool.
There are no comments for this entry yet.