spaghetti with cauliflower, burrata and thyme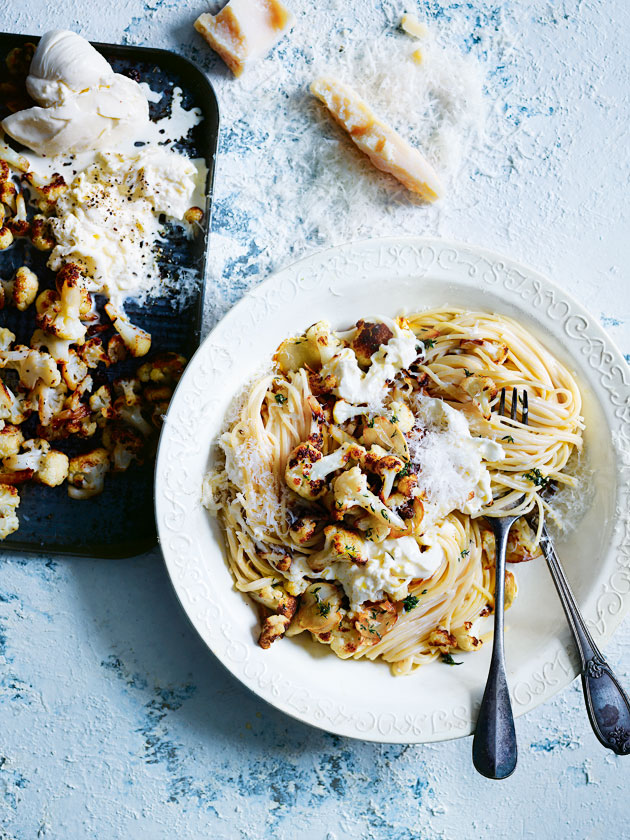 1 cup (250ml) single (pouring) cream
3 egg yolks
1 cup (80g) finely grated parmesan, plus extra, to serve
sea salt and cracked black pepper
1 tablespoon extra virgin olive oil
25g unsalted butter, chopped
1.2kg cauliflower, trimmed and cut into small florets
2 cloves garlic, thinly sliced
1 tablespoon thyme leaves
400g spaghetti
2 x 200g burrata (see tip), torn
8 white anchovy fillets, chopped (optional)

Place the cream, egg yolks, parmesan, salt and pepper in a bowl, whisk to combine and set aside. Heat the oil and butter in a large non-stick frying pan over high heat. Add the cauliflower, garlic, thyme, salt and pepper and cook for 10–12 minutes or until golden and cooked through. Set aside and keep warm.
Cook the pasta in a large saucepan of salted boiling water for 8–10 minutes or until al dente. Drain, reserving ½ cup (125ml) of the cooking liquid.
Return the pasta to the pan over low heat. Add the cream mixture and reserved cooking liquid and stir for 2 minutes or until just thickened. Top with the cauliflower, burrata and anchovy and sprinkle with the parmesan. Serves 4.

Tip: Burrata is a fresh mozzarella made with cream. Find it at specialty food stores, cheese shops and some greengrocers. You can also use buffalo mozzarella.
There are no comments for this entry yet.