crumbed pork with apple and potato mash
and kale chips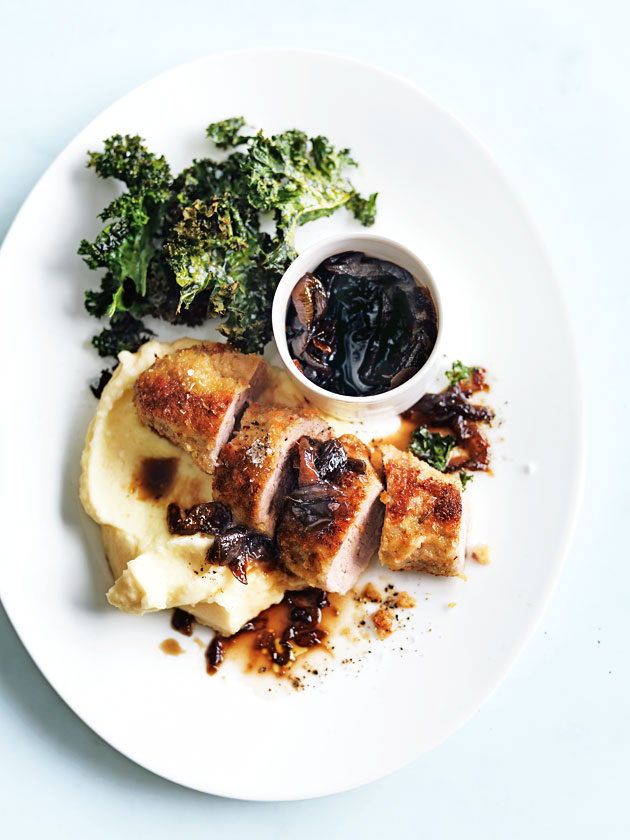 ¼ cup (25g) panko (Japanese) breadcrumbs

1 clove garlic, crushed

1 teaspoon fennel seeds, crushed

sea salt and cracked black pepper

1 teaspoon Dijon mustard

800g pork fillet (tenderloin), trimmed

300g kale, stems removed and torn

1 tablespoon extra virgin olive oil

1kg sebago (starchy) potatoes, peeled and chopped

3 Granny Smith (green) apples, peeled, cored and thinly sliced

¼ cup (60ml) single (pouring) cream

store-bought caramelised onion relish, to serve

Preheat oven to 220°C (425°F). Place the breadcrumbs, garlic, fennel seeds, salt and pepper in a large bowl. Mix to combine and set aside.

Rub the mustard over the pork and roll in the breadcrumb mixture. Place on a lightly greased oven tray and roast for 20 minutes, turning halfway, until the pork is golden and cooked through.

While the pork is roasting, place the kale on a large baking tray, drizzle with the oil, sprinkle with salt and pepper and toss to combine. Bake for the last 5 minutes of the pork cooking time, or until crisp.

To make the mash, place the potato and apple in a large saucepan of salted cold water, cover with a tight-fitting lid and bring to the boil over high heat. Simmer for 10 minutes or until potatoes are soft. Drain and return to the saucepan over medium heat with the cream, salt and pepper and mash until smooth. Divide between plates and top with slices of the pork. Serve with the kale chips and onion relish. Serves 4.

There are no comments for this entry yet.