pork and horseradish burgers with apple slaw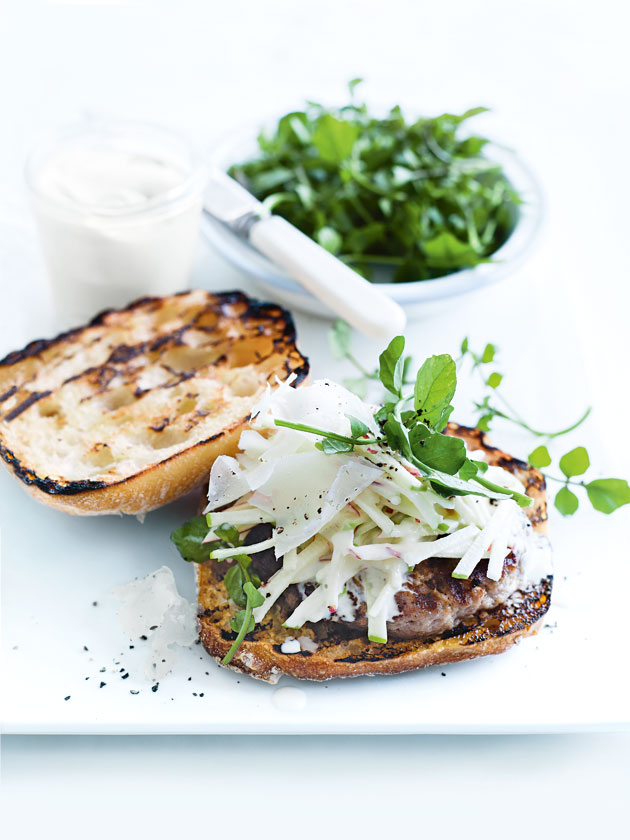 ⅓ cup (80ml) store-bought aïoli
1 red apple, thinly sliced
1 Granny Smith (green) apple, thinly sliced
sea salt and cracked black pepper
500g pork mince
1 clove garlic, crushed
2 tablespoons horseradish cream
4 bread rolls, halved
olive oil, for brushing
½ cup (40g) shaved manchego or cheddar
50g watercress sprigs

Place 2 tablespoons aïoli, the red and green apple, salt and pepper in a bowl and mix to combine. Set aside.

Place the pork, garlic, horseradish, salt and pepper in a bowl and mix until well combined. Divide mixture into 4 equal-sized patties.
Preheat a char-grill pan or barbecue over high heat. Brush the halved rolls with oil and cook, cut-side down, for 1 minute or until lightly charred. Set aside.

Brush the patties with oil and cook for 4 minutes each side or until cooked through. Spread the rolls with the remaining aïoli and top with the patties, slaw, cheese and watercress sprigs. Makes 4.

There are no comments for this entry yet.