apple and almond cake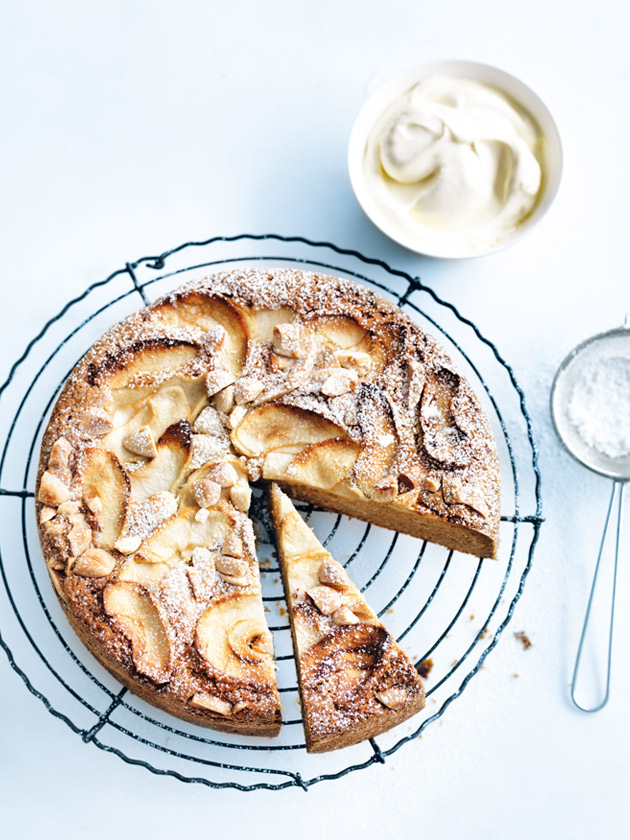 320g granny smith apples, peeled, quartered, cored and thinly sliced

1 cup (220g) caster sugar

1½ cups (195g) gluten-free flour+, sifted

2 teaspoons baking powder, sifted

1 teaspoon mixed spice

2 teaspoons vanilla extract

2 eggs, lightly beaten

125g unsalted butter, melted

¼ cup (40g) blanched almonds, chopped

icing sugar, for dusting

double (thick) cream, to serve

Preheat oven to 180°C. Place the apples and one tablespoon of the sugar in a bowl and toss to combine. Set aside.
Place the remaining sugar, flour, baking powder, mixed spice, vanilla, eggs and butter in a large bowl and mix to combine. Fold through half the apples.
Spoon the mixture into a lightly greased 20cm round springform tin lined with non-stick baking paper and top with the remaining apples and the almonds.
Bake for 1 hour 5 minutes or until cooked when tested with a skewer. Allow to cool in the tin for 10 minutes. Remove from the tin and place on a wire rack to cool completely.
Dust with icing sugar and serve with the cream. Serves 8.

+ You can find gluten-free flour in the health-food aisle of the supermarket.
Tip: Store the cake in an airtight container for up to 1 week.
donna hay team
Hi Chris, the 320g apple weight is before you they are peeled and cored. Happy baking!
Chris McDonald
So is the 320g of apples weighed before or after coring and peeling ?
donna hay team
Hi Sophie, yes, we used a fan forced oven to test this recipe. The DH Team.
Sophie Wester
Is the oven temp for a fan forced oven?
donna hay team
Hi, Chris. Yes, this would work fine too. The DH Team.
Chris Scott
This looks delicious!! Would plain flour full of gluten work ?
Alene Wendrow
This was delicious! I made it for a bring along dessert, and it disappeared. Will definitely make it again. Perfect even for brunch. Thank you!
Marta Sousa
Hi!I made this lovely cake yesterday, besides looking so beautiful, it's so tasty! Delicious..this recipe is to repeat, definitely!Thanks for sharing these simple but amazing recipes.
Eloise Basuki
I made this last weekend and it was such a success! All gone in about 10 minutes! Thanks Donna