banana bread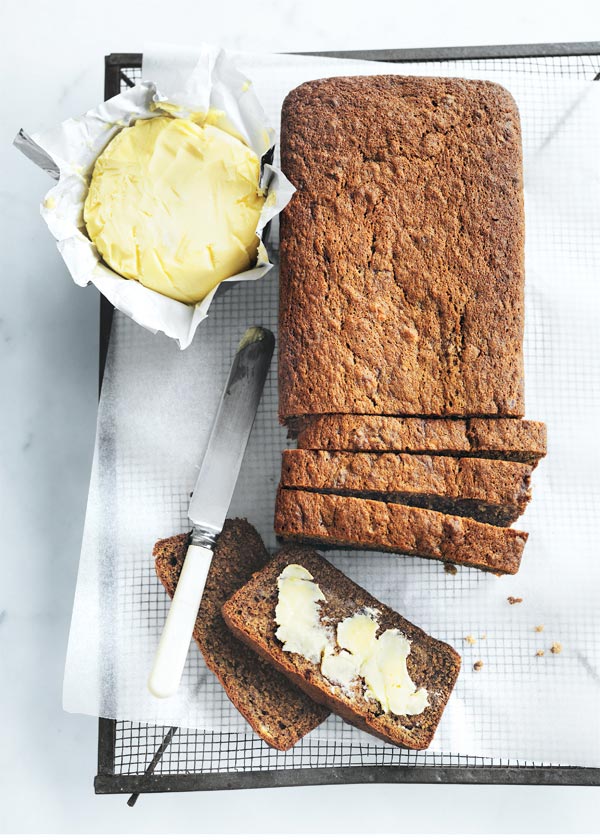 125g butter, softened

1 cup (175g) brown sugar
1 teaspoon vanilla extract
2 eggs
2 cups mashed banana
1¾ cups (255g) plain (all-purpose) flour, sifted
1 teaspoon baking powder, sifted
1 teaspoon bicarbonate of (baking) soda
1 teaspoon ground cinnamon
⅓ cup (115g) golden syrup
butter, extra, to serve

Preheat oven to 160°C (325°F). Place the butter, sugar and vanilla in an electric mixer and beat for 8–10 minutes or until pale and creamy. Scrape down the sides of the bowl.

Gradually add the eggs and beat well to combine. Add the banana, flour, baking powder, bicarbonate of soda, cinnamon and golden syrup and stir to combine.
Spoon the mixture into a 26cm x 11cm (2.5 litre-capacity) lightly greased loaf tin lined with baking paper. Bake for 60–65 minutes or until cooked when tested with a skewer.

Cool in the tin for 20 minutes before turning out onto a wire rack to cool completely. Slice and serve with the extra butter. Serves 6–8.

Reshni Vuong
My go to fruit bread recipe! I add banana plus whatever else I have.. Pear, raspberries, apple, chop chips. Love it!
jamie Finlayson
This is the best banana bread I have ever made! My family are obsessed and are wanting this weekly.
I add some chocolate chips if I am a little short on the 2 cups of banana but it works every time.
Annette Armstrong
The recipe just gets better and better for me. I live on a bus with my family. Every time I would make BB it failed. I found your recipe and WOW!.
It not only tastes great but I can't fail at it. I use a bundt tin in my Foodi Ninja.
Thank you
donna hay team
Hi Angelina, all of our recipes use a fan-forced oven. Happy baking!
Viviane Miller
I just made this recipe using G.F flour! And this is the best G.F banana bread. I'd made
Patricia Gillett
I bake his then freeze into smaller slices which we love at golf…. Keeps me going
Kym Little
Hiya… to make this Into muffins what is the baking time
Angelina Sutrisno
Is the temperature 160C on this recipe meant for conventional oven or fan forced oven?
donna hay team
Hi Lisa, we have tested the recipe like this, but if you do try, let us know how you go. Happy baking!
Lisa Brett
Can I do this in my Thermo mix Donna
X
Filiz Peksen
The best banana bread I have ever eaten and baked!! We started to bake this every week. I reduced the sugar to 100 gram and add 1 1/2 cup walnuts ... So good… thank you
SONDRA FELIX
I have tried many banana bread recipes and this is by far the best recipe ever! The crumb is so light that I would call this a banana cake instead of bread. I will never ever use another recipe again! This is it!
Emily Potter-Brown
This is the best banana bread, I think on the planet. I make this regularly and service it for breakfast for all my friends and family and it astounds everyone, it is so perfect!
Kim Rojewski
There are 2 issues with this recipe that I can't see anyone else commenting on.
1. You have to wait tooo long after the bread comes out of the oven!!!!
2. Bananas don't ripen fast enough to use… I've had my bananas out for days waiting to ripen fast enough!!!!
Tiarne Gilligan
Absolutely DELICIOUS! So easy to make.
Ali Bab
Baked this banana bread without a mixer (good work-out!), replacing the brown sugar with raw sugar and the golden syrup with honey (all I had in the cupboard) and without any measuring cups and it turned out AMAZING! Would definitely recommend this recipe.
Beck Head
This is so yummy! I often add in half a cup of white choc chips but its still so good without it. My family gobbles this up. I've also substituted g/f flour and it worked well too.
Helene Visser
I've been in the hunt for a good banana bread recipe for years and I have finally found it!! This is amazing! I didn't add the golden syrup as I didn't have any. It still turned out incredible. So happy!