black and white wagon wheels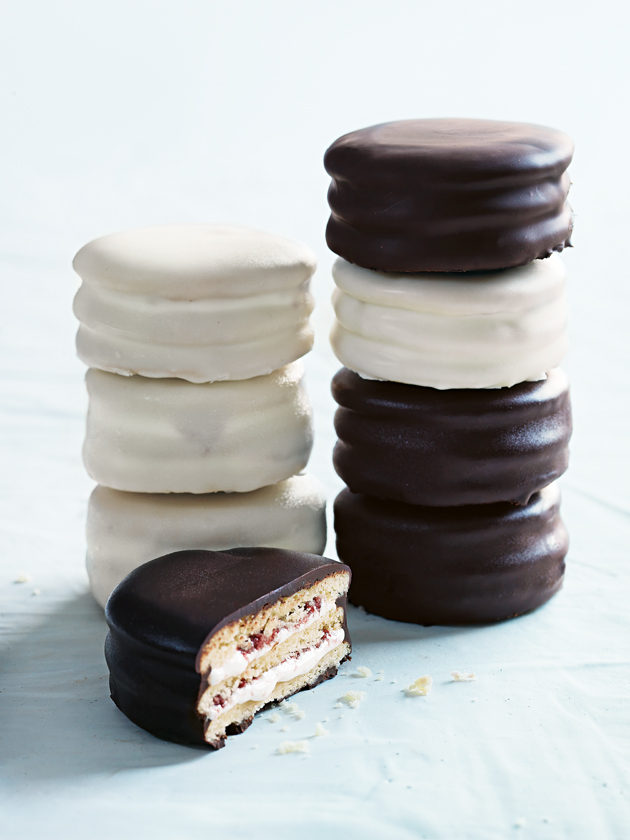 170g unsalted butter, softened
1 cup (160g) icing (confectioner's) sugar, sifted
1 teaspoon vanilla extract
2 teaspoons honey
1 egg
2¼ cups (335g) plain (all-purpose) flour, sifted
1 teaspoon baking powder
½ teaspoon bicarbonate of (baking) soda
1¼ cups (115g) store-bought marshmallow fluff+
1/3 cup (120g) blackberry jam
400g dark (70%) chocolate, finely chopped
2 tablespoons vegetable oil
375g white chocolate buttons
1/3 cup (80ml) vegetable oil, extra
Place the butter, sugar and vanilla in an electric mixer and beat for 5–7 minutes or until pale and creamy. Scrape down the sides of the bowl, add the honey and egg and beat until well combined. Add the flour, baking powder and bicarbonate of soda and beat on low speed until combined. Flatten the dough into a disc and wrap with plastic wrap. Refrigerate for 1 hour or until firm.

Preheat oven to 180°C (325°F). Roll the dough out between two sheets of non-stick baking paper to 5mm thick. Using a 5cm-round cookie cutter, cut out 45 rounds from the dough and place on baking trays lined with non-stick baking paper. Bake for 4–5 minutes or until just golden around the edges. Using a palette knife, transfer immediately to wire racks to cool completely. Spread 30 of the cookies with 1 teaspoon marshmallow fluff each. Top with ½ teaspoon jam each. Sandwich two filled cookies and top with remaining plain cookies. (You will have 3 cookies for each wagon wheel). Place in the freezer for 20 minutes or until firm.
Place the dark chocolate and oil in a heatproof bowl over a saucepan of simmering water and stir occasionally until smooth. Repeat in a separate bowl with the white chocolate buttons and extra oil. Dip half of the cookies into the dark chocolate and half into the white chocolate to coat and place on trays lined with non-stick baking paper. Refrigerate until set. Makes 15.

+ Marshmallow fluff is a US product available from some specialty food stores, supermarkets and online.
There are no comments for this entry yet.