blueberry, lemon and yoghurt scones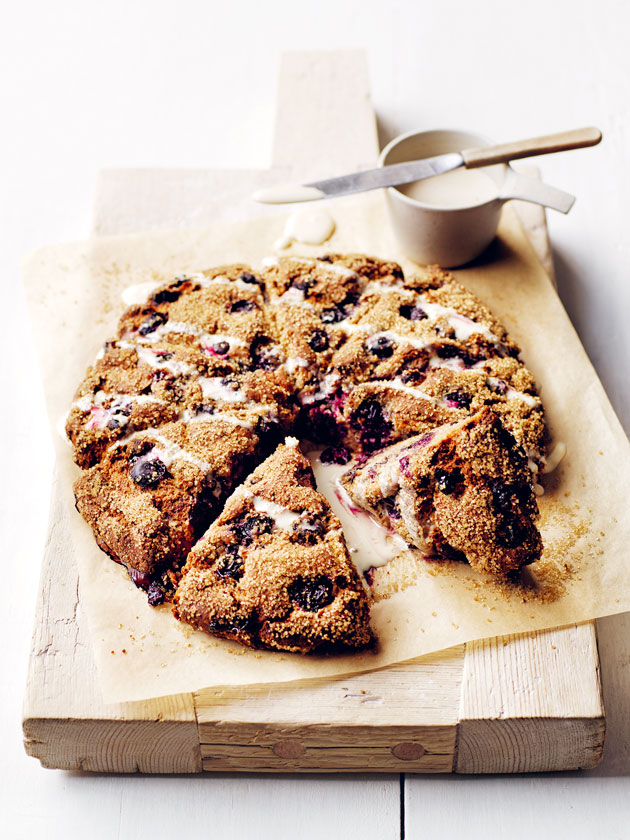 ½ cup (75g) coconut sugar
⅓ cup (80ml) light-flavoured extra virgin olive oil
1¼ cups (350g) Farmers Union Greek Style Natural Yogurt
1 teaspoon vanilla extract
2 teaspoons finely grated lemon rind
1 cup (120g) plain (all-purpose) wholemeal (whole-wheat) spelt flour, plus extra for dusting
¾ cup (120g) buckwheat flour
½ cup (60g) almond meal (ground almonds)
2 tablespoons white chia seeds
3 teaspoons baking powder
2 cups (250g) frozen blueberries
demerara sugar, for sprinkling
store-bought creamed honey, to serve​
Preheat oven to 180°C (350°F).
Place the coconut sugar, oil, yoghurt, vanilla and lemon rind into a bowl and whisk to combine.
In a separate bowl, mix the flours, almond meal, chia and baking powder together to combine.
Make a well in the centre, add the yoghurt mixture and use a butter knife or a flat spatula to gently mix the dough until almost combined+. Add the frozen blueberries and stir through.
Lay the dough out onto a large baking tray lined with non-stick baking paper.
Using lightly floured hands, bring the dough together and flatten out into a rough 20cm (8 inch) round.
Using a sharp knife, cut into 8 pieces and sprinkle the top with demerara sugar. Bake for 45 minutes or until golden brown.
Serve with creamed honey, if you like. Serves 8
+ It is important to work quickly when using yoghurt and baking powder as these contain active ingredients.
Get creative with these scones! Frozen raspberries, blackberries or chopped soft fresh dates will all shine.
Photography: Chris Court
This recipe is from Donna's book One Pan Perfect - click here to purchase
There are no comments for this entry yet.
RELATED VIDEO