chewy chocolate chip cookies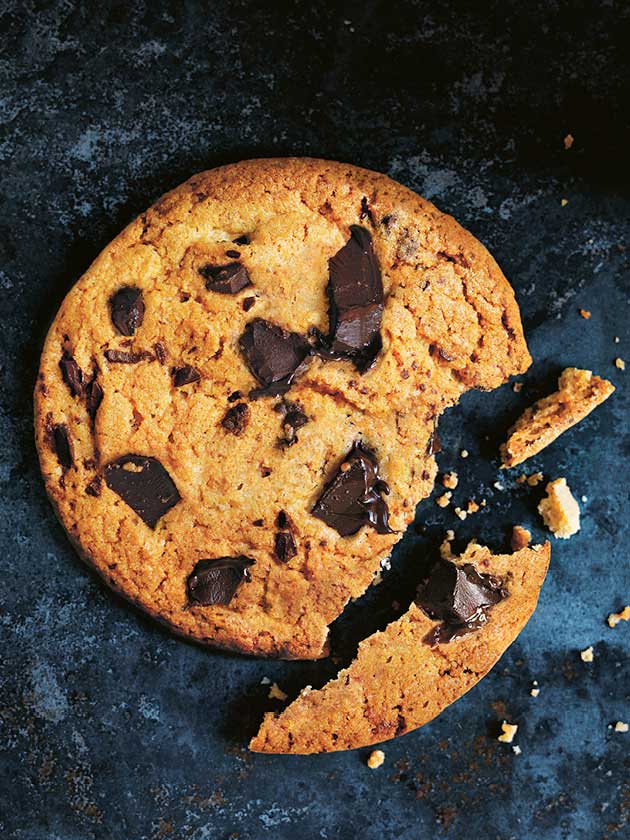 200g cold unsalted butter, chopped
1 cup (175g) brown sugar
¾ cup (165g) white (granulated) sugar
1 teaspoon vanilla extract
2 tablespoons milk

1 egg

2 cups (300g) plain (all-purpose) flour
¼ teaspoon baking powder
¼ teaspoon bicarbonate of (baking) soda
¼ teaspoon table salt
300g dark chocolate, chopped
Preheat oven to 180°C (350°F).
Place the butter and both the sugars in the bowl of an electric mixer and beat on low speed until just combined.
Increase the speed to medium and beat for 
8 minutes or until pale and creamy, scraping down the sides of the bowl.
Add the vanilla, milk and egg and beat for 2 minutes or until light and fluffy.
Sift in the flour, baking powder, bicarbonate 
of soda and salt and beat until combined.
Add the chocolate and stir to combine.
Roll heaped tablespoons of the mixture into balls and place on lightly greased baking trays lined with non-stick baking paper+. Bake for 12–14 minutes or until golden brown++.
Allow to cool on the trays for 5 minutes before transferring onto wire racks to cool. Makes 22
+ Leave 2–3cm between each ball of cookie dough to allow for spreading in the oven.
++ Cookies should be golden around the edges with even colouring on the base when they're ready.
TIP If you're baking more than one tray of cookies at a time, swap their shelf positions in the oven halfway through cooking time to ensure even colouring.
Virginia Leonard
Very nice. Much easier to roll and results chewier after refrigerating the remaining dough.
I made them with my child and we added smarties instead of dark chocolate for fun.
Delicious with a cuppa after a cold week
Margaret Neilsen
So easy to make but so yummy. These did not last long. I will no longer buy store cookies. This is truly the best cookie recipe.
Kerry Harman
Hi
I've just made these biscuits with a thermometer and salted chocolate yum
donna hay team
Hi Casey, we have not tested this with coconut oil so the texture and flavour might vary from the original. Make sure to use the coconut oil when it is solid so that you can beat it as you would the butter with the sugar.
Casey Thomas
Is it possible to swap out the butter for coconut oil?
donna hay team
Hi Elizabeth, these cookies are best baked and eaten on the day. But, the cookie dough can be made in advance, rolled and frozen. Then you can simply thaw and bake as per the recipe. Enjoy! – DH Team!
Elizabeth Lim
Hi, how long can these cookies be kept for? Want to make this for an event and wondering if I can make it a few days ahead.
Olivia Bland
TIP! If you don't have a big electric bowl mixer, combine the cold butter and sugar with your hands before using a hand mixer or spoon! Makes it so much easier!
Nicole-Brook Huebner
Amazing chewy choc-chip cookies. So easy to make & so yummy. Only complaint is it makes way too many & my waist line is complaining
Cat G
Mine came out flat is that how they're meant to be? They were crunchy and chewy at the same time which was a yummy texture, but a little flat. I weighed each one to about 50g raw dough
sharon gascoigne
My 10yr old granddaughter made these for the 1st time so easy & so yummy
Madison Sanders
Cookies are siqqqqqqqq. Made them for my lit fam and blew their tops off. Would make for my wedding. Peace out. Dr Madz.
Shahar Zion
The best chocolate cookies ever !
Jo Van Gent
I made these yesterday with my son. Sooo delicious, best recipe, best cookies. Will make them again
Tania Olson
I've made these cookies a few times now, and they've been consistently delicious. They are also the most perfect looking cookies I've ever made. My new favourite cookie recipe.
Rosa Jane
I made these for the first time tonight. What can I say but DELICIOUS!!