Choc-chunk tahini cookies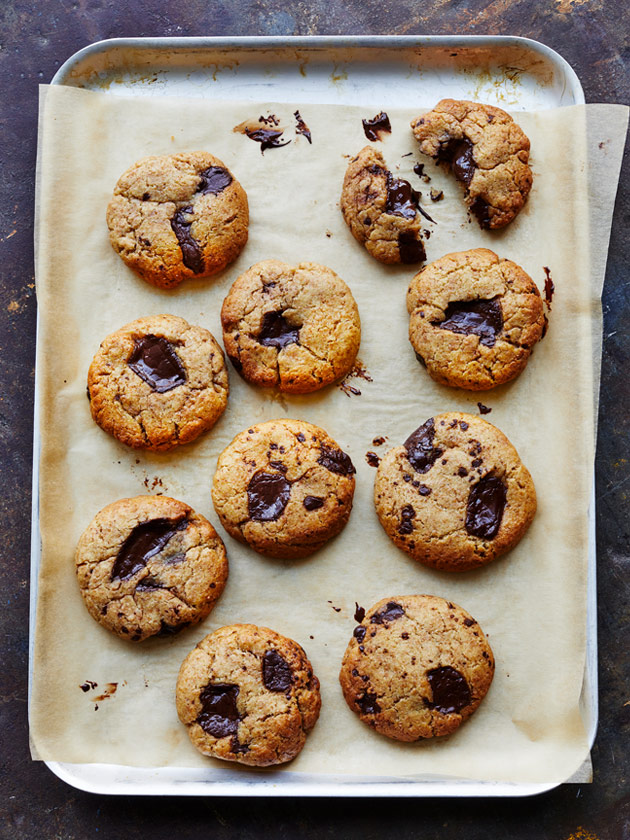 1 cup (280g/10 oz) hulled tahini (see Tips + Tricks)
1 cup (220g/7¾ oz) CSR raw caster (superfine) sugar
⅓ cup (80ml/2¾ fl oz) maple syrup
2 teaspoons vanilla extract
1 egg
2 cups (280g/10 oz) wholemeal (whole-wheat) spelt flour
¼ teaspoon bicarbonate of (baking) soda
¼ teaspoon baking powder
200g (7 oz) chopped dark chocolate
Preheat oven to 160°C (325°F). Line 2 large baking trays with non-stick baking paper.
Place the tahini, sugar, maple syrup, vanilla and egg in a large bowl and mix well to combine.
Place the flour, bicarbonate of soda and baking powder in a medium bowl and stir to combine. Sift the flour mixture into the tahini mixture and mix well to combine. Add the chocolate and fold to combine.
Roll heaped tablespoons of the dough into 24 balls and place on the trays. Flatten the cookies slightly and bake for 12–14 minutes or until light golden. Allow to cool on the trays. Makes 24
TIPS + TRICKS
+ This recipe works best when a smooth, thick, hulled tahini is used. Avoid those jars that have fully settled on the shelf (with a large layer of oil at the top and dried-out tahini underneath). Look for a fresh, good-quality, blended variety.
+ You can swap the spelt flour for buckwheat flour to make these cookies gluten free. Just double check your baking powder is gluten free too!
Photography: Con Poulos
Kara Marr
These cookies had a pleasant soft texture but was too sweet for my taste, I would reduce the amount of sugar if making again. I didn't have spelt flour so substituted wholemeal wheat flour instead and this quantity of dough made 34 cookies for me.
Amanda Pennisi
Just made these cookies for a gift and had some leftover for home, with some really nice Tahini from my local farmers market. So delicious!
Alex Kromidas
These cookies are absolutely delicious, try stopping at one
Despina Joannidis
Beautiful combination of flavours in this cookie. I made them this morning. Love your recipes