chocolate and raspberry pavlovas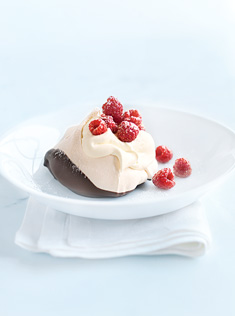 150 ml eggwhite (approximately 4 eggs)

1 cup (220g) caster (superfine) sugar

2 tablespoons cornflour (cornstarch), sifted

2 teaspoons white vinegar

100g dark chocolate, melted

1 cup (250ml) single (pouring) cream

300g raspberries

icing (confectioner's) sugar, to dust

Preheat oven to 150°C (300°F). Place the eggwhite in the bowl of an electric mixer and whisk until stiff peaks form. Gradually add the sugar, whisking well, until the mixture is stiff and glossy. Add the cornflour and vinegar and whisk until just combined. Spoon ½ cupfuls of the mixture onto baking trays lined with non-stick baking paper. Reduce oven to 120°C (250°F) and bake for 1 hour.

Turn the oven off and allow the pavlovas to cool completely in the oven. Dip the bases of the pavlovas in melted chocolate, place on non-stick baking paper and set aside for 30 minutes or until the chocolate is set.
Whisk the cream until soft peaks form. Spoon over the pavlovas, top with raspberries and dust with icing sugar. Serve immediately. Makes 10.

There are no comments for this entry yet.