chocolate, banana and coconut muffins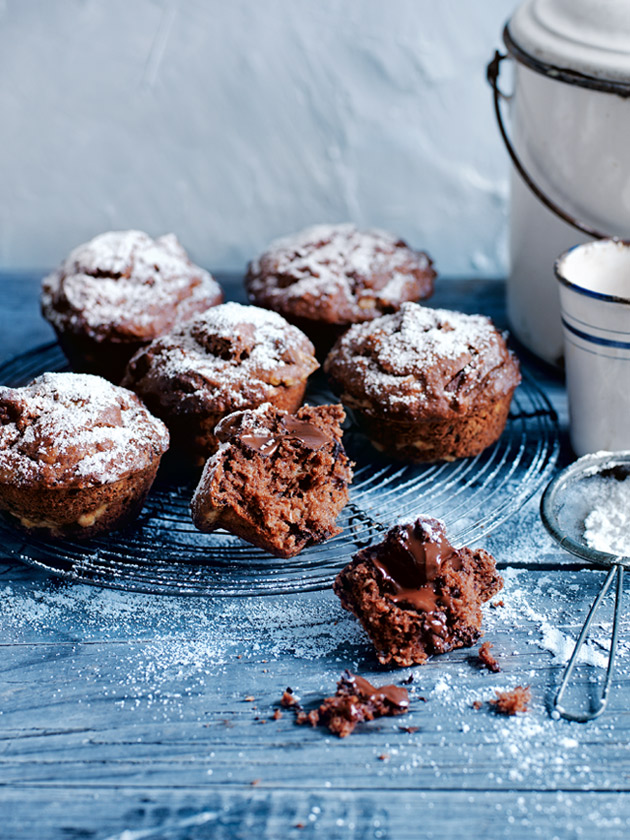 2½ cups (375g) self-raising (self-rising) flour

½ cup (40g) desiccated coconut

1 cup (175g) light brown sugar

¼ cup (25g) cocoa powder

2 eggs, lightly beaten

2 teaspoons vanilla extract

½ cup (125ml) coconut milk

½ cup (125ml) vegetable oil

2 cups (520g) mashed banana (about 6 bananas)

200g dark chocolate, chopped

icing (confectioner's) sugar, for dusting

Preheat oven to 180°C (350°F). Line 12 x ½-cup-capacity (125ml) muffin tins with paper cases. Place the flour, coconut, sugar and cocoa in a large bowl and mix to combine. Add the egg, vanilla, coconut milk, oil, banana and chocolate and, using a butter knife, mix until just combined.

Spoon the mixture into the tins and bake for 25 minutes or until cooked when tested with a skewer. Allow to cool in the tins for 2 minutes before transferring onto wire racks to cool completely. Dust with icing sugar to serve. Makes 12

yang elin
Luv this combination of the flavours! I added more dessicated coconut n almost every other bite, I can taste it! Luv it!
Cynthia Villar
Marvellous muffins! I halved the recipe to yield 6 texan size muffins. Substituted my own GF flour mix (brown rice/quinoa/tapioca), macadamia nut oil, cacao powder and reduced brown sugar to 70g . Organic ingredients where possible. Thank you to the DH team!
Mary Santo
Wow, these muffins were so scrumptious! Teen boys devoured them, which is a win win! Followed recipe to the T, perfect
Ilka Howell
These muffins are amazing. Great way to use up a lot of over ripe bananas. Have made several times now, always moist and always a hit. Have made with cows milk instead of coconut milk when had none on hand and still worked well.