chocolate freckle cake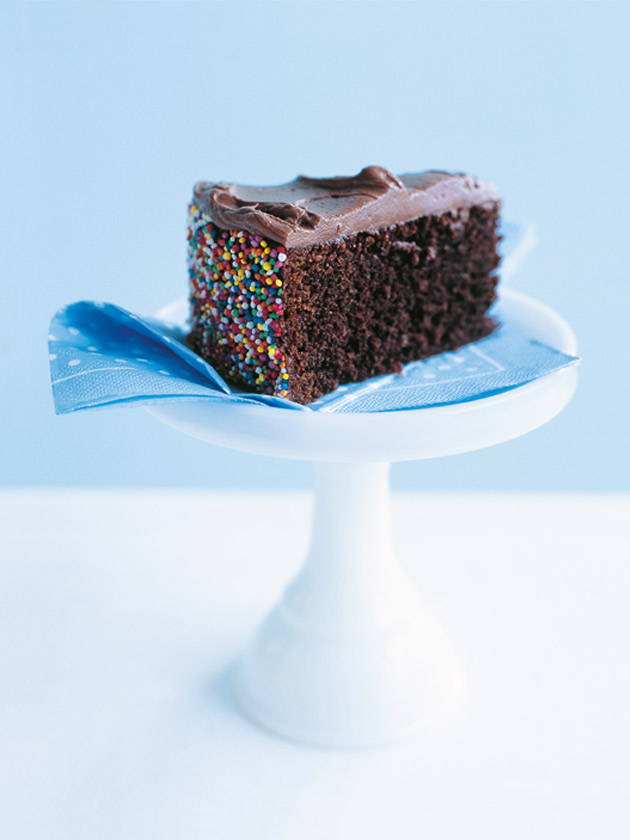 2 cups plain (all-purpose) flour

1 cup almond meal

3 teaspoons baking powder

2 cups brown sugar

200g (7 oz) unsalted butter, melted

3 eggs

1 cup (8 fl oz) milk

⅓ cup cocoa powder, sifted

coloured sprinkles to decorate

chocolate icing
2½ cups (600ml) double (thick) cream

1 tablespoon cocoa powder, sifted

¼ cup icing (confectioner's) sugar, sifted

½ cup store-bought hazelnut spread
Preheat the oven to 160°C (320°F). Place the flour, almond meal, baking powder, sugar, butter, eggs, milk and cocoa in a bowl 
and mix well to combine. Pour the mixture into a lightly greased 22cm (8½ in) round cake tin lined with baking paper. Bake for 
1¼ hours or until cooked when tested with a skewer. Cool in 
the tin for 5 minutes then turn out onto a wire rack.

To make the chocolate icing, place the cream, cocoa, icing sugar and hazelnut spread in a bowl and mix well to combine. Trim the top off the cake and brush off any crumbs using a pastry brush.
Place the sprinkles on a baking tray. Spread some of the icing over the sides of the cake with a palette knife and roll the cake in the sprinkles to coat. Secure the cake upside down on a cake board with a dollop of icing and spread the remaining icing over the top. Serves 10–12.
There are no comments for this entry yet.