chocolate mousse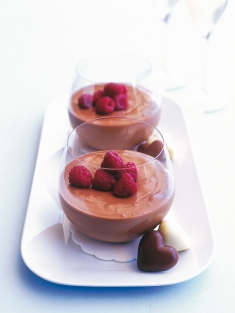 200g dark chocolate, chopped

20g butter

3 eggs, separated

1 tablespoon caster (superfine) sugar

1 cup (250ml) pouring (single) cream

120g raspberries

Place the chocolate and butter in a small saucepan over low heat and stir until melted and smooth. Stir through the egg yolks and set aside.
Whisk the eggwhites until soft peaks form. Gradually add the sugar and beat until stiff peaks form.
Whisk the cream until soft peaks form.

Fold the whisked eggwhites through the chocolate mixture, then the whisked cream. Spoon into serving glasses and refrigerate until set. Top with the raspberries to serve. Serves 4

Sue-Allan McGivern
So easy and foolproof, my (chocoholic) partner and daughter absolutely loved it
donna hay team
Hi Diane, this will keep for 2-3 days. The DH Team.
Diane Butt
How long can you keep this in the fridge before you should throw it out?
Beth Martin
Absolutely love this mousse. I got 4 big serves from it. My partner is asking me to make it every night
Angela Tsai
I have made this recipe a few times now. I follow the recipe exactly and I think it serves more than 2! I manage to get about 5 generous / 6 'regular' portions out of it. Delicious every time - thanks Donna!