chocolate pound cake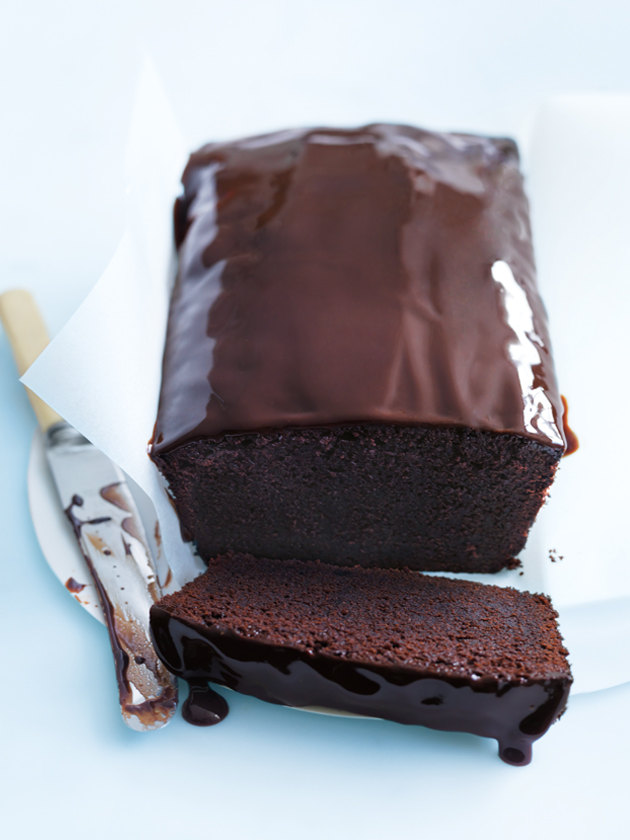 1 cup (100g) cocoa powder, sifted

⅔ cup (180ml) boiling water

250g unsalted butter, softened

1 cup (220g) caster (superfine) sugar

⅔ cup (120g) brown sugar

2 teaspoons vanilla extract

5 eggs

1 cup (150g) plain (all-purpose) flour

chocolate glaze
100g dark chocolate

1 teaspoon vanilla extract

¼ cup (60ml) single (pouring) cream+

Preheat oven to 160°C (325°F). Place the cocoa and boiling water in a bowl and mix until smooth. Set aside. Place the butter and both the sugars in the bowl of an electric mixer and beat on high speed for 6 minutes or until light and creamy.
Add the vanilla, eggs and cocoa mixture and beat until well combined. Add the flour and mix until just combined. Pour the mixture into a lightly greased 21cm x 10cm loaf tin lined with non-stick baking paper. Bake for 1 hour 10 minutes or until cooked when tested with a skewer.
Cool in the tin for 5 minutes before turning out on to a wire rack to cool completely. To make the chocolate glaze, place the chocolate, vanilla and cream in a small saucepan over low heat and stir until smooth. Cool slightly before spreading over the cooled cake to serve. Serves 12.

Amanda Nissen
I have made this cake numerous times now, and have created different variations as it is such an easy, moist and delicious base. I have added frozen raspberries for a choc-berry variant and most recently, made two thinner, round cakes and baked them each for 30 minutes then layered them with white chocolate ganache, dark chocolate ganache with toasted almonds scattered over the top. Absolutely terrific!
Leena Tennyson
Made this yesterday
My family has loved it
First time I have made a cake
donna hay team
Hi Assifa, this cake does not require any raising agents as it is a dense moist cake. Hope this helps! The DH Team
Assifa Sk
No raising agents used in this recipe ?
1965hellosunshine@gmail.com
I have made a couple of times now. Lovely and moist with that rich chocolate fudge taste. Keeps in an airtight container for a couple of days…..if it lasts that long!
donna hay team
Hi Michael, yes that's correct. Happy baking! The DH team
Michael Grelis
I note that there is no baking soda/bicarb mentioned in the recipe. Is this correct?