cinnamon almond cookies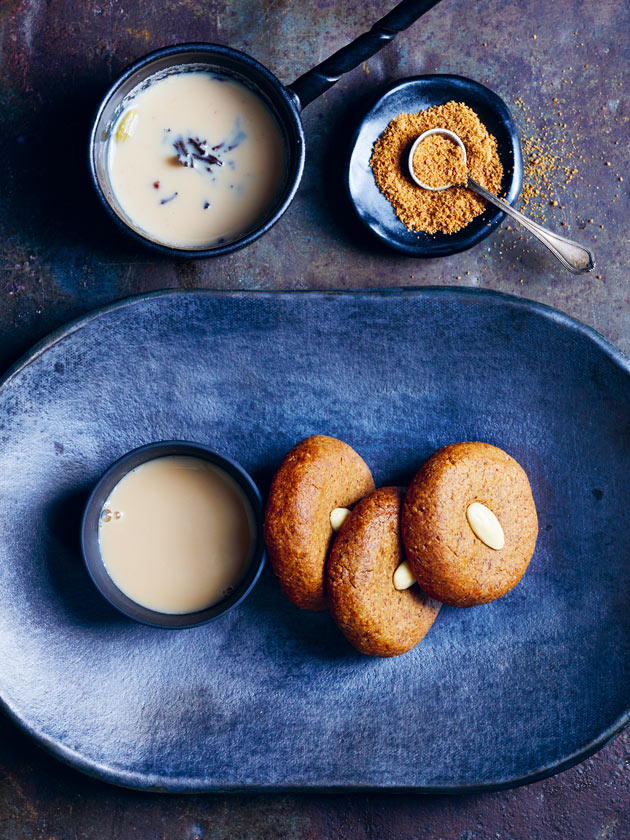 1¼ cups (150g/5¼ oz) almond meal (ground almonds)
1 cup (250g/8¾ oz) almond butter
¾ cup (110g/4 oz) rapadura sugar or coconut sugar
¼ cup (60ml/2 fl oz) maple syrup
2 teaspoons vanilla extract
1 teaspoon ground cinnamon
12 blanched almonds
chai tea, to serve (optional)
Preheat oven to 160°C (325°F). Line a large baking tray with non-stick baking paper.
Place the almond meal, almond butter, sugar, maple syrup, vanilla and cinnamon in a large bowl and mix to combine.
Roll 1-tablespoon portions of the mixture into balls, flatten slightly and place on the tray. Press an almond into the top of each cookie. Bake for 12–14 minutes or until deep golden in colour (see cook's notes). Allow to cool on the trays. Serve with chai tea. Makes 12

TIPS + TRICKS
+ Don't be afraid to bake these cookies until they're deep golden in colour – you'll be rewarded with the most incredible caramelised flavour. That little extra time in the oven also keeps the cookies crisp on the outside and fudgy on the inside for more than a day – if they last that long!
Photography: Con Poulos
donna hay team
Hi Danelle, yes of course you can change the butter. You could even use cashew butter.
Caitlin Macleod
These are very quick and easy. They are almost entirely almond so be prepared for them to taste that way. They don't have the buttery, crumbly, moreish taste of cookies made with butter but they are very yummy and not too sweet. Ate some of mine with ice cream and I think chai tea would pair well too as suggested. The cinnamon taste is not particularly strong so I think you could add a little extra.
Emily Aussel
Hello, Donna
Can you substitute the alm oknd butter with peanut butter?
Thanks, danelle
ANNIE CHATELLIER
J'aime beaucoup le parfum de la cannelle dans la pâtisserie .
Je prends note de la recette et ferai prochainement ces biscuits très tentant.
Merci pour le partage