cinnamon and banana cookies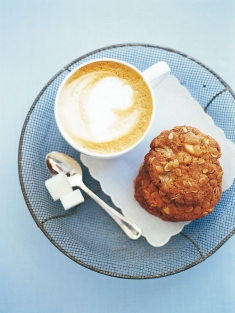 1 cup (90g) rolled oats

1 cup (150g) plain (all-purpose) flour

¾ cup (60g) desiccated coconut

1 teaspoon ground cinnamon

¼ cup banana chips, roughly chopped

2 tablespoons golden syrup

½ cup (110g) caster (superfine) sugar

125g butter

½ teaspoon bicarbonate of (baking) soda

1 tablespoon hot water

1 banana, chopped into small chunks

Preheat oven to 160ºC (320ºF). Place the oats, flour, coconut, cinnamon and banana chips in a bowl and set aside.
Place the golden syrup, sugar and butter in a saucepan over low heat and stir until butter is melted and sugar is dissolved. Mix the bicarbonate of soda with the water and add to the golden syrup mixture. Pour the golden syrup mixture over oats mixture, add the banana and mix well.
Place tablespoons of the mixture onto baking trays lined with non-stick baking paper, allowing room for cookies to spread, and flatten slightly. Bake for 20 minutes or until golden. Cool on wire racks. Makes 20.

+ To check if the cookies are done, look at the bottom not the top. If you wait until the top looks right you risk overcooking them. To check, lift a cookie with a spatula so you can see underneath. The bottom should be deep golden. Cool on trays as the cookies will continue to cook after you've removed them from the oven.
Leah Frost
Easy to make and yummy! Love the soft banana bits when you bite into the cookie. I went half plain flour and half self-raising to make the cookies a little chewier. Delicious!
Beverley Drew
Delicious & easy to make. Lovely with a cuppa.