cinnamon doughnut puffs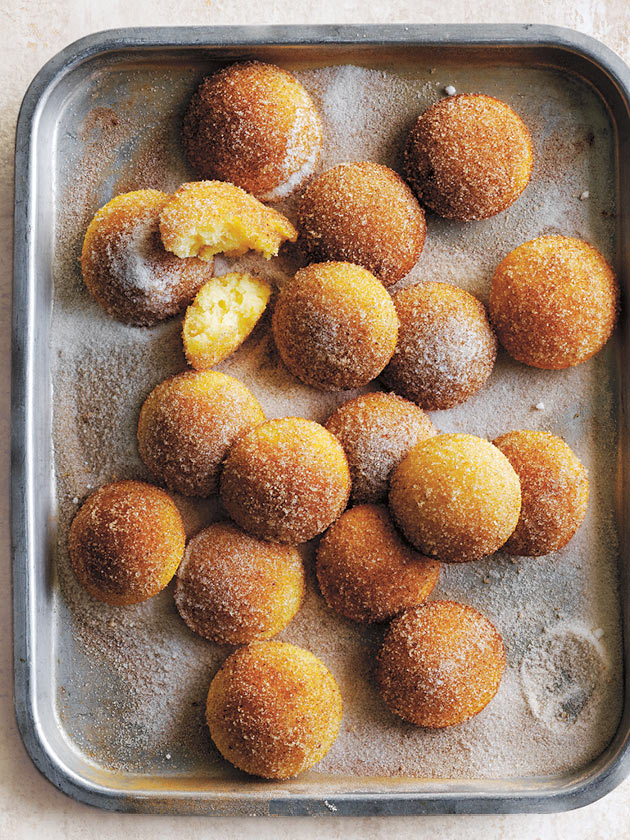 1¼ cups (185g) plain (all-purpose) flour

1½ teaspoons baking powder

⅓ cup (75g) caster (superfine) sugar

125g unsalted butter

1 egg, lightly beaten (whisk it gently)

⅔ cup (160ml) milk

cinnamon sugar coating
⅓ cup (75g) white (granulated) sugar

½ teaspoon ground cinnamon

50g unsalted butter (melty goodness)

Preheat oven to 180°C (350°F). Grease 24 x ⅛-cup-capacity (30ml) non-stick patty tins.

Using a sifter or sieve, sift the flour and baking powder into a big bowl. Add the sugar and, using a spoon or spatula, dig a small well in the middle.

Place the butter in a small saucepan over low heat, stirring with a spatula, until melted. Break the egg into a medium jug and add the milk and melted butter. Mix to combine, using a whisk. Pour the egg mixture into the well in the flour mixture and whisk until smooth.

Divide the mixture between the prepared tins, filling each one just to the top. Bake for 12 minutes or until puffed up and golden brown.

To make the cinnamon sugar coating, place the sugar and cinnamon in a medium shallow bowl and mix to combine, using a spatula. Place the butter in a small saucepan over low heat, stirring with the spatula, until melted. Allow to cool a little.

Wearing oven gloves, remove the puffs from the oven and allow to cool in the tins for 1 minute. Carefully move the puffs onto a wire rack and, using a pastry brush, brush them all over with the melted butter while they're still hot. Toss them in the cinnamon mixture to coat. Serve the doughnut puffs warm or allow them to cool completely back on the rack. Makes 24
TIP
If you can't find patty tins, you can make these puffs in 24 x ⅛-cup-capacity (30ml) non-stick mini muffin tins – just bake them for an extra 3 minutes.
Photography: Chris Court
Natalie Barron
I made these, and the kids and DH couldn't eat them quick enough. They were really quick and easy to make too!!