classic custard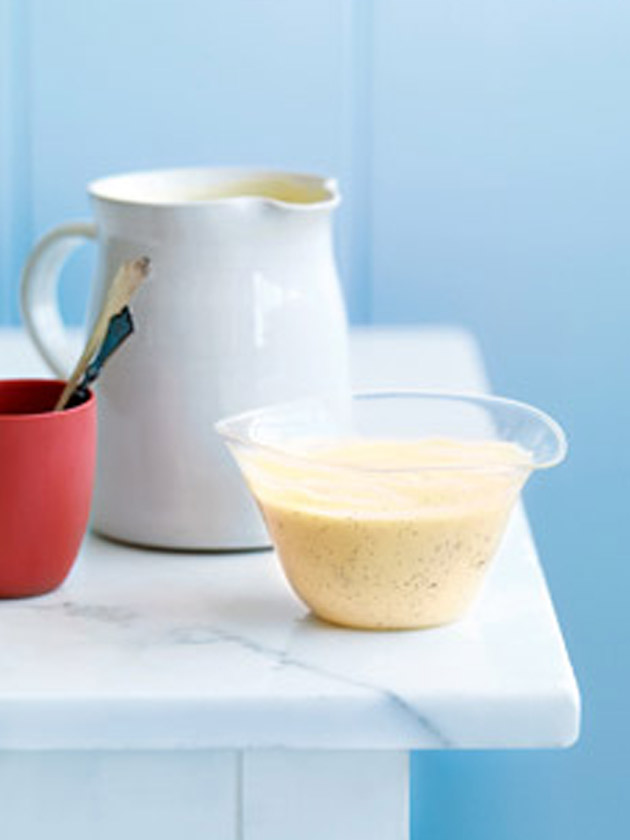 2 cups (500ml) single (pouring) cream

1 vanilla bean split and seeds scraped or 2 teaspoons vanilla extract

4 egg yolks

¼ cup (55g) caster (superfine) sugar

1 tablespoon cornflour (cornstarch)

Place the cream and vanilla in a small saucepan over medium heat and bring just to the boil.

Place the egg yolks, sugar and cornflour in a bowl and whisk to combine. Gradually whisk in the cream mixture until combined. Return the mixture to the saucepan and stir over low heat for 2–3 minutes or until thickened and coats the back of a wooden spoon. Serve warm or chilled+ with pudding or cake. Makes 2 cups.

+ To chill custard, cover the surface completely with plastic wrap and place in the fridge. This will prevent a skin from forming.
Adapt the classic custard recipe with these variations:
RASPBERRY: Stir ½ cup lightly crushed frozen or fresh raspberries through cooled custard.
BROWN SUGAR: Replace the caster sugar with ¼ cup (50g) brown sugar. This will give the custard a sweet caramel flavour.
SPIKED: Add ¼ cup (60ml) brandy, whisky or your favourite liqueur to the cream when heating it.
SPICED: Add ½ teaspoon ground cinnamon, mixed spice or nutmeg to the cream when heating it.
Ingrid Kazzi
After trying many custard recipes, Donna's is by far the best. I wanted to find a recipe which uses as little cornflour as possible - and this is it! It's very easy to make
Lovely consistency and keeps well. I use it to fill Cannoli as well as to have on the side when serving various dessert dishes.
Wendy Mavrick
So easy to make and it was absolutely beautiful. Will definitely make this again