classic melting moments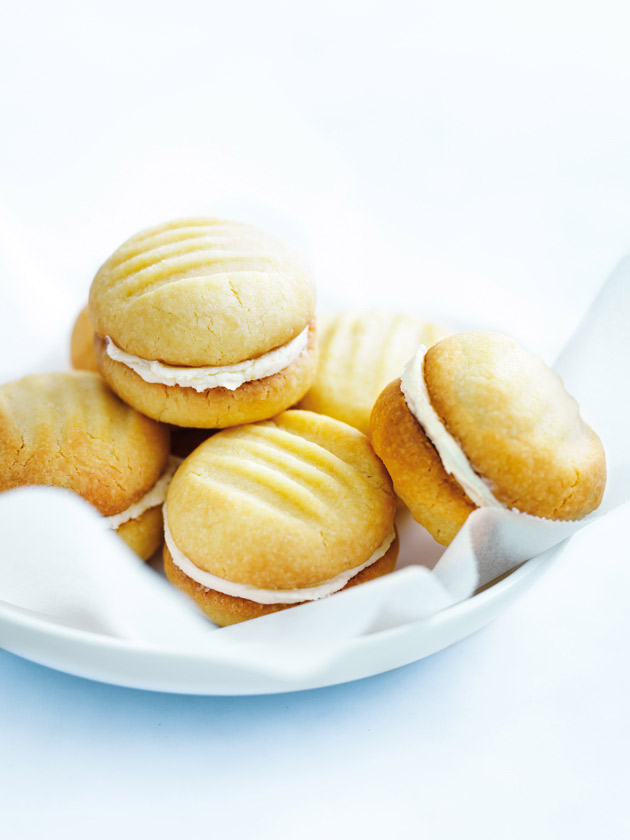 175g unsalted butter, softened

¼ cup (40g) icing (confectioner's) sugar, sifted

1 teaspoon vanilla extract

1 cup (150g) plain (all-purpose) flour, sifted

¼ cup (35g) cornflour (cornstarch), sifted

lemon filling
60g unsalted butter, softened

1 cup (160g) icing (confectioner's) sugar, sifted

2 teaspoons lemon juice

2 teaspoons finely grated lemon rind

Preheat oven to 180°C (350°F). Place the butter, icing sugar and vanilla in the bowl of an electric mixer and beat for 5–6 minutes, or until light and fluffy. Add the flour and cornflour and beat until combined and a smooth dough forms.
Roll tablespoons of the dough into rounds and place onto large lightly greased baking trays lined with non-stick baking paper, spaced 2cm apart. Flatten each round slightly using a lightly floured fork. Bake for 8–10 minutes or until lightly golden around the edges. Transfer to wire racks to cool completely.
To make the lemon filling, place the butter, icing sugar, lemon juice and rind in an electric mixer and beat for 5 minutes or until light and creamy. Spread the filling onto the underside of half the biscuits and sandwich with the remaining biscuits. Makes 10.


There are no comments for this entry yet.