coconut and golden syrup cookies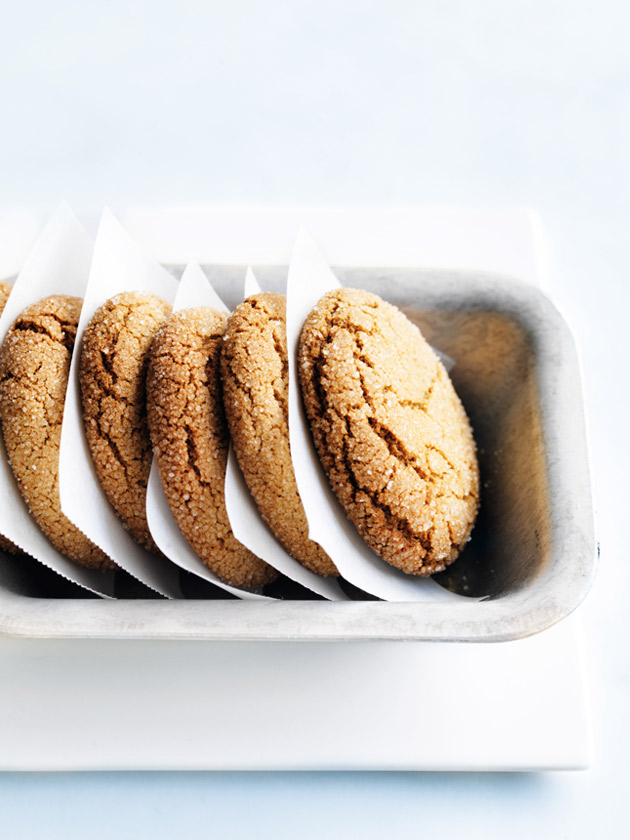 ½ cup (100g) coconut oil+, melted

¾ cup (165g) brown sugar

⅓ cup golden syrup

2 teaspoons vanilla extract

1 egg

2 cups (300g) plain flour, sifted

2 teaspoons mixed spice

1 teaspoon bicarbonate of soda

¼ cup (55g) white sugar

Preheat oven to 180°C. Place the oil, sugar, golden syrup, vanilla and egg in the bowl of an electric mixer and beat for 4–5 minutes or until thickened and pale. Add the flour, mixed spice and bicarbonate of soda and beat until just combined. Refrigerate the dough for 30 minutes or until firm.
Roll tablespoonfuls of the mixture into balls, then roll in the white sugar and place on lightly greased large baking trays lined with non-stick baking paper, allowing room to spread. Bake for 10–12 minutes or until golden brown and slightly soft in the centre. Allow to cool slightly on trays before transferring to wire racks to cool completely. Makes 18.

+ Find coconut oil in the health food aisle of most supermarkets and at health food stores. minutes to firm up.
Tip: Keep coconut oil at room temperature. It should be the consistency of butter. If it's too soft or melted, place in the fridge for a few minutes to firm up.
Tip: The coconut and golden syrup cookies are a chewy centred biscuit. For a crunchier biscuit, cook for an extra couple of minutes.

There are no comments for this entry yet.