coconut and lemon syrup cake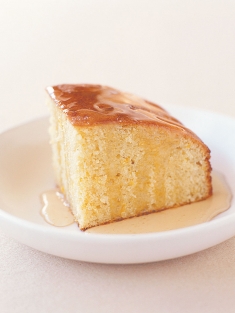 150g butter

1 cup (220g) caster (superfine) sugar

1 tablespoon finely grated lemon rind

3 eggs

1½ cups (120g) dessicated coconut

1½ cups (225g) self-raising (self-rising) flour

¾ cup (185ml) milk

lemon syrup
1 cup (220g) caster (superfine) sugar

¾ cup (185ml) water

2 tablespoons lemon juice

Preheat oven to 180°C (355ºF). Beat the butter, sugar and lemon rind in an electric mixer until light and creamy. Add the eggs and beat well. Mix through the coconut, flour and milk with a wooden spoon until smooth. Pour into a 20cm-square cake tin lined with non-stick baking paper and bake for 40 minutes or until cooked when tested with a skewer. Cool cake in tin.

To make the lemon syrup, combine the sugar, water and lemon juice in a saucepan over medium heat and stir until dissolved. Simmer for 5 minutes or until thickened slightly. Pour over warm or cool cake. Serves 8–10.

Rosemary Mastrullo
Cake came out amazing. Super easy to make. I added lemon juice to the cake mixture and extra lemon juice to the syrup to make a stronger lemon flavour and it came out great.
Jocelyn White
Easy and quick to put together, the syrup helped keep it moist, loved the flavour the coconut added to the crust.
John York
Fantastic recipe. I simmered the syrup for an 5 minutes to thicken it a bit more and added a tsp of grated rind to the syrup too. When I make this next time I will reduce the amount of water in the syrup. I also sliced some lemon really thin and candied it in a pan with about a tablespoon of the syrup and a tiny pinch of salt, and placed them on top. It tasted like candied lemon lollies. Absolutely beautiful.