coconut raspberry slice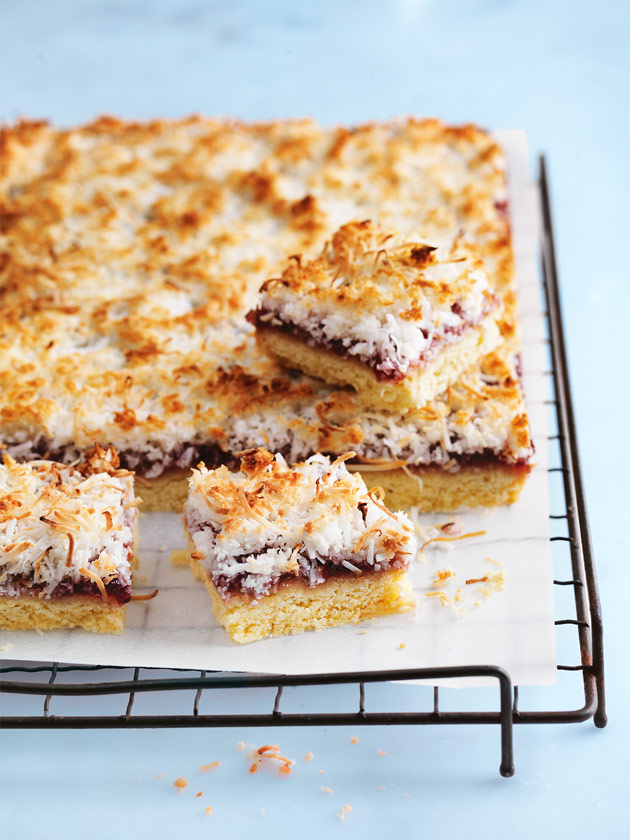 1½ cups (225g) self-raising (self-rising) flour

½ cup (40g) desiccated coconut,

½ cup (110g) caster (superfine) sugar

125g unsalted butter, chopped and melted

1 egg

1 cup (320g) raspberry jam
topping
1 cup (80g) desiccated coconut

1 cup (75g) shredded coconut

2 eggwhites

2 tablespoons caster (superfine) sugar

Preheat the oven to 180°C (350°F). Place the flour, desiccated coconut, sugar, butter and egg in a large bowl and mix until combined. Using the back of a spoon, press into a lightly greased 20cm x 30cm slice tin lined with non-stick baking paper.

Cook for 15 minutes or until golden brown. Spread the jam over the cooked base. To make the topping, place the desiccated and shredded coconut, eggwhites and sugar in a medium bowl and mix until combined. Sprinkle over the jam and cook for 12–15 minutes or until golden brown. Set aside in the tin to cool completely before slicing to serve. Makes 20
Alison Ayling
This recipe was lovely, and has less sugar than other similar recipes on the net. The quality of the raspberry jam makes a big difference to the overall outcome. I baked the base for 20 min as my oven is slow and it was perfect.
Shirley Steed
Love your recipe but find the color and the size of font very hard to see. Maybe my age.
donna hay team
Hi Karen, in Australia we buy coconut unsweetened! Happy cooking.
Karen James
I am not familiar with dessicated coconut but from what I read, it comes sweetenened and unsweetened. Which do you use in this recipe? Thanks.