date and orange scones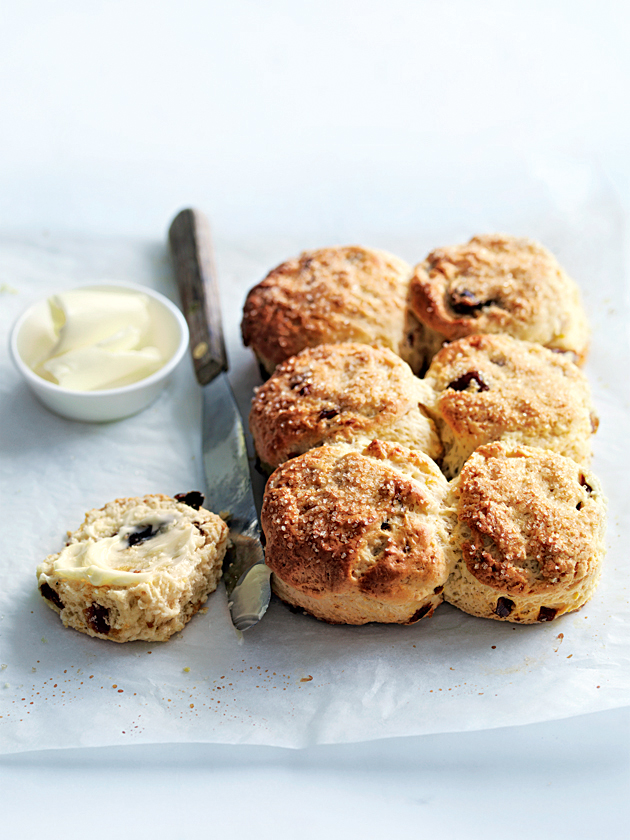 3 cups (450g) self-raising (self-rising) flour, sifted

½ cup (110g) caster (superfine) sugar

1 tablespoon finely grated orange rind

75g cold butter, chopped

1 cup (70g) chopped pitted dates

1 cup (250ml) milk, plus extra, for brushing

raw sugar, for sprinkling

butter, extra, to serve

Preheat oven to 180ºC (355ºF). Place the flour, sugar and orange rind in a bowl and mix to combine. Add the butter and use your fingertips to rub it into the flour mixture until it resembles fine breadcrumbs. Stir through the dates. Make a well in the centre and pour in the milk. Use a butter knife to gradually mix the milk into the flour mixture until just combined.
Turn out onto a lightly floured surface and gently bring the dough together. Roll out to 2cm thick and use a 6cm-round cutter to cut 16 rounds. Place the scones together on a baking tray lined with baking paper and brush with extra milk. Sprinkle with raw sugar and bake for 18–20 minutes or until cooked when tested with a skewer. Serve with butter. Makes 16.
Megan Williams
Love this recipe. Very easy and so tasty!
donna hay team
Hi Alia, great spot, thank you! The recipe has now been corrected. Happy baking! The DH team x
alia el zaray
hi made those but the measurement for the milk are wrong, its not 350ml but 250ml the equivalent of a cup. just to let people know, as i do not use cup measurements but ml or grams!